Computer Case Buying Guide
Table of contents
Does the Computer Case Matter?
As the most visible parts of the total PC system, the appearance of the monitor, keyboard and mouse, as well as the case (also called chassis or enclosure) can be of vital importance. The significance of the computer case is far more than just skin deep, however. As most computer parts are installed in the case, the case is far more than just a box. It plays a very significant role - not only does the computer case affect the type and number of components that can be installed, the layout and design of the case and its internals also determine the cooling performance of the entire system.

With a staggering number of computer cases on offer today, choosing one could be a relatively complicated task for any customer. Looks (the wow factor), functionality (and layout), expandability, cooling performance and price should all be taken into account for not only the performance, but also for the value you will be getting from your purchase. This guide will cover most of these factors, except for the aesthetics, which is subjective by nature.


What Types of Computer Cases are there?
A computer case is always designed according to the components it is meant to house - different case types are developed to fit the varied requirements of the users (different types and count of hardware components). The component with the greatest influence on case design is the motherboard as it basically determines the form factor of a computer case, which we'll talk about in the next section.
Form Factor/Motherboard Compatibility
In computing, "form factor" is an industry term for the size, shape and format of computer motherboards, power supplies, cases, and add-on cards. It is important to choose a computer case that accommodates the motherboard form factor.

There are two major form factors where desktop computer motherboards are concerned: ATX (Advanced Technology Extended) and BTX (Balanced Technology Extended). We will cover both ATX and BTX form factors below. In addition there are cases that also support SSI (Server System Infrastructure) motherboards, which are used in servers.

The ATX form factor was developed by Intel in 1995 and was designed to replace the AT/Baby AT form factor. There are many variants of the ATX form factor in the form of smaller boards (such as microATX and Flex ATX) or larger boards (EATX or Extended ATX, for sever/workstation usage). These usually provide the basic rear layout but reduce/add board size and the number of expansion slots. Generally, a computer case that supports a standard/full-size ATX motherboard should be compatible with all smaller ATX boards as well.

The BTX form factor is a newly developed form factor. BTX motherboards utilize new layouts for better heat dissipation and airflow. There are also smaller sized BTX from factors as well, such as microBTX and picoBTX. Because of the changes in motherboard layout, it requires installation into unique cases designed specifically for BTX.

The ATX form factor is still the mainstream form factor currently. Only a small number of retail motherboards/cases utilize the BTX form factor as of now. On a special note, there are several ATX/BTX all-compatible cases on the market, and users can convert the case to fit the motherboard form factor required.
Case Types
Computer cases are classified as either desktop cases or tower cases. Desktop cases are considered to be less space efficient than that of tower cases, but there is no fundamental difference between these two case types. Tower-style sever cases can be found as well - they are usually very big and are designed for workstation and small server use. Certainly, you can use this kind of case as your desktop case too if you want.
| | |
| --- | --- |
| | |
| ATX Desktop/Media Center Case | Server Case |
Media center cases are most often built desktop style, and as the name suggests, they are typically designed for HTPC/multimedia users. Some models provide LCD screens to display playback information, and may ship with remote controls for convenient operation.
Tower cases are currently the mainstream and are classified as either
Full
,
Mid
, or
Mini
tower cases.
| | |
| --- | --- |
| | |
| ATX Full Tower Case | ATX Mid Tower Case |
A
full tower
case is the largest and is able to hold the greatest number of components, but has the largest footprint. Full sized cases are designed for gamers/enthusiasts or other high-end computer professionals who want peak performance and cooling from their machines. Most users, including some gamers, will not need the extra space this class of case provides.
| | |
| --- | --- |
| | |
| microATX Mini Tower Case | microATX Slim Case |
On the other extreme, a
mini tower
case or an even smaller slim case will take up the least amount of space, but their exterior proportions limit the number of components that can be housed inside them. This limitation on internal space also decreases heat dissipation efficiency. These smaller cases are adequate for most computer applications such as word processing, surfing the internet, playing music and sharing photos but will find it difficult supporting the high-end components a gamer will require.
The
mid tower
case's qualities are a compromise between the extremes, and it delivers adequate housing capacity for most computer systems. This median size is the standard because it provides decent expandability without the goliath footprint of full-sized PC cases. Users desiring a computer with room for expansion in the future, but currently do not need the cutting edge performance are well-served by mid-sized cases.
Things to Look For When Choosing Your Computer Case
Purchasing the case that's right for your computer is, as we described at the beginning, a very big deal. In this section we'll go through some key functionality/expandability specifications of the computer case, and provide some general knowledge of what to look for in addition to appearance and price.
Drive Bays
When making your choice, it is important to consider not only the motherboard specification, but the number of internal and external devices that will be used as well. The most common configuration calls for one (or more) optical disc drive placed in an external 5.25" drive bay, a floppy disk drive in an external 3.5" drive bay, and one or more hard drives in the internal 3.5" drive bays. You can also install an internal flash card reader and/or other front panels into the external 5.25" or 3.5" drive bays according to the form factor of the device.


As shown above, you can access the optical disc drives/floppy disk drive or flash card reader externally without opening the case. That is why these are called "external" drive bays; but that doesn't mean you can install these devices without opening the case.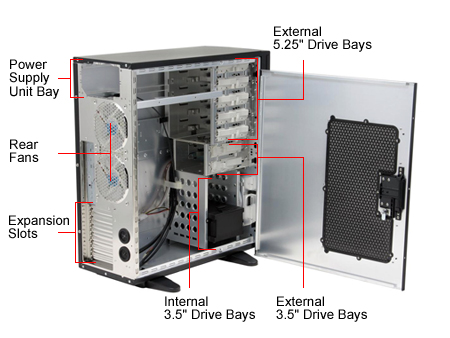 For internal drive bays, you can only get to them after opening the computer case.
Expansion Slots
The expansion slots provided by the case are not that different from those on a motherboard, the expansion slots on the case are designed to match up with the expansion slot positions on your motherboard to secure the add-in cards - and also make connecting other devices to these add-in cards possible. Make sure the case you select provides no less expansion slots than your motherboard (all slots, including video card slots).
Cooling
Cooling performance is a very important aspect of case design as almost every component generates heat, especially the power-hungry CPU and video card(s). High temperatures are always the bane of electronic devices. The layout and design of a computer case determines to a great degree the airflow within the case and therefore the cooling performance of the system.

The images below show two top-of-the-line computer cases that provide top-notch ventilation and layouts for superb cooling performance.



Fans
Powerful computers (i.e. ones configured with high-end CPUs and enthusiast-class video cards) produce a lot of heat. These computers stand to benefit greatly from the extra heat dissipation provided by case cooling fans.

PC cases typically provide two single-fan installation points:
- An 80 or 90mm fan at the inside front of the case
- One 120mm fan or one or more 90mm fans at the inside rear of the case.
There are also special cases that allow a greater number of fans to be installed at various locations in the case. Generally speaking, a larger fan (e.g. a 120mm fan vs. a 90mm fan) can work at lower speeds (measured in RPM, revolutions per minute) while providing the same or higher level of airflow (thus cooling performance). Lower fan speeds often means lower noise.

Certain computer cases do not come with their own case cooling fans, but you may add extra fans or change existing case fans for better ventilation or lower noise. Just make sure that the case supports additional fans, and that the proper size fans are purchased.

Side Air Duct
The side air duct refers to the air duct and/or fan on the side panel of a tower case that is usually near the CPU installation point. Side air ducts can promote a higher level of cooling performance.
Case Material
Many cases produced today are made of steel and plastic (e.g. acrylic for side windows). If you consider a steel case to be a bit on the heavy side, you have the option of opting for a much lighter aluminum or aluminum alloy case. These cases are solid and sturdy as well, and provide the added benefit of superior heat dissipation. Of course, aluminium/aluminium alloy cases often cost more then steel cases.


| | |
| --- | --- |
| | |
| Acrylic Case |  Aluminum Case |
Acrylic cases are usually completely transparent. An acrylic showcases the beauty of the internal components, but the electromagnetic shielding and heat dissipation performance of cannot match that of metal (steel or aluminum) cases.
Front Ports
Front ports refer to a group of I/O ports located near or on the front panel of the computer case. They may also be located above or to the side of the front panel and are designed for easy access as users will not have to reach for the ports on the rear panel of the case to connect or disconnect peripherals. Most front ports are a combination of USB ports, audio ports and IEEE1394 (FireWire) ports.


| | |
| --- | --- |
| | |
| Front Panel Ports |  Side Panel Ports |
Front panel ports are generally located directly on the front cover of a computer case, but they may also be found on one side of the case.
| | |
| --- | --- |
| | |
| Top Panel Ports |  Front Panel Ports |

Full tower cases are so big that it only makes sense to put them on the floor in most circumstances. The top panel location of the additional ports means that the user's convenience is maximized.
Side Panel Window
Side panel windows or transparent side panels are purely aesthetic in nature. They allow you to see the components working without removing the side panel. These are quickly becoming a necessity for DIYers who want to install UV-sensitive or LED lights in the system. With these mods a system looks simply fantastic in the dark.


| | |
| --- | --- |
| | |
| Case with Side Panel Window | Case with Power Supply Unit |

Power Supply
A PC case containing a typical setup consisting of motherboard, CPU, graphics card, and memory, plus optical drive, floppy drive, and 3.5" hard disc drive will find sufficient capacity in a 250 to 350 watt power supply unit (PSU). If you are a DIY enthusiast, gamer or have plans to build your own computer, a higher-specification PSU may be needed according to your planned power supply load.

For more information on PSUs, please read our Power Supply Buying Guide.

Not every computer case ships with a power supply unit, but those that do will have the presence of the PSU stated in the product specifications along with the PSU's capacity. Should the specifications fail to mention a PSU, a PSU is usually not included. Generally speaking, a case's bundled PSU should more than cover the power supply requirements of the majority of users that select the case. Most high-end computer cases do not come with a PSU unless the case utilizes special designs (in terms of shape or cooling).

Choosing a case based on your own needs is key, especially the form factor, and the type and number of bays you are going to use (now and in the future). The form factor (generally determined by case type) should accommodate your motherboard above all. Our recommendations below are general suggestions and may not be perfect matches for your distinct set of requirements.
General Home/Office User
Most computer systems are not installed with a large number of hardware components, so a mid or mini tower case is typically more than enough. You can even choose the smaller slim case if it is able to house your components.


Generally speaking, power supplies that come with these types of cases provide sufficient power for this type of usage as well.

HTPC/Media Center User
Media center or desktop cases are perfect for HTPC usage. The LCD screen and remote control (if they are provided) allows your computer to be used like a home electronic device.


Gamers/Enthusiasts
Cases for gamers and enthusiasts should be able to contain a large number of different components. Therefore, the expandability of the case is very important consideration. High-end systems often generate more heat, so the case must also provide excellent cooling performance.

For those who enjoy modding their machines - especially cases - a bigger case or cases with special designs make particularly good choices and leave enough room for creative modifications.





Buy Computer Cases at Newegg.com