When discussing computers, certain parts such as the CPU, memory and video card are usually the focus of attention. For instance, you might hear someone say "I have an Athlon 64 X2 4400+ processor with 1 Gigabyte DDR400 memory, and an NVIDIA GeForce 7900GT video card". Sure, this info gives a quick and general impression of what someone has, but it also does not communicate what plays a significant role in making all these parts work together properly: the motherboard.

Consider the CPU as the brain of a computer, and the motherboard the body. Then connect all the other devices and components. It's easy to simply grab a motherboard after choosing a CPU - maybe the one that adheres to the budget better or costs less. This isn't the recommended approach because the motherboard roughly determines the type of system that can be built and directly affects the type of parts and devices that can be installed in the system. Rather importantly it also determines the upgradeability of the system.

It is also important to know that a motherboard change is one of the tougher modifications to accomplish physically, so we don't recommend doing it very often. When building your system from the ground up make sure that choosing the right motherboard is at the top of your to-do list – it is a very important task, if not the most important.


A motherboard is composed of many components and choosing one is therefore a very complicated process when compared to almost any other single part or device in the computer system.

There are two issues that require attention when choosing a motherboard:
1. The chipset, which determines the functionality, compatibility and connectivity of a motherboard, and
2. The CPU support, since users typically choose a motherboard in order to support their choice of CPU, rather than the other way round (unless you are upgrading the CPU).
Chipset
The term "chipset" (sometimes called core logic) often refers to the two main chips on the motherboard: the Northbridge and the Southbridge (some vendors name their products differently, i.e. NVIDIA calls it either SPP or IGP or MCP). The Northbridge and Southbridge may also be combined into a single chip. This is called single-chip design.

The Northbridge often refers to the chip that handles communications between the CPU, and the AGP or PCI Express bus and the Southbridge. Traditionally the Northbridge contained the memory controller, but for contemporary AMD processors, the memory controller is integrated into the CPU. Some Northbridge chips have integrated graphics units as well.

The Southbridge provides connections to I/O devices, such as the PCI bus, USB, PATA, SATA and PCI Express devices. Other Southbridge functions include interrupt controller, real time clock, power management (ACPI and APM), SMBus and so on. Southbridge chips are usually connected to Northbridge chips.

The chipset is the core component of a motherboard, and the CPU support, graphics support, major I/O device support and expansion (add-in) card support all depend on the chipset. Therefore, after determining the processor, the first thing a user needs to do when choosing a motherboard is determine the chipset.

For more information on AMD chipsets, please refer to the following article:
AMD Compatible Desktop Chipset Guide

CPU Support
CPU support on an AMD platform motherboard is very easy to discover. Generally speaking, the socket type is all you need to pay attention to. The CPU socket or slot is the interface of both the processor and the motherboard. The processor's socket type must match the motherboard's CPU socket to be installed properly. This means, for instance, that a Socket AM2 CPU must be used with a Socket AM2 motherboard.

Please make sure to check the CPU support information for the motherboard you plan to buy.

Below are the major socket types for contemporary AMD motherboards:
| | |
| --- | --- |
| | |
| Socket 754 |  Socket 939 |
Socket AM2

Important Information:
Current Socket 754 processors include the Sempron series and older model Athlon 64 processors. Some AMD K8 desktop processors such as the Athlon 64, Athlon 64 FX, and Athlon 64 X2 utilize the Socket 939 socket. The latest Socket AM2 has been adopted by all AMD desktop processor families including Sempron, Athlon 64, Athlon 64 FX and Athlon 64 X2.

Although the process of choosing a motherboard is complicated due to the various functions and connections motherboards provide, it can become much easier to find one that meets your requirements once you know what to look for.
Memory Support
Traditionally, the memory controller formed a part of the chipset on the motherboard. Therefore, the chipset basically determined the type of memory that could be used in the system. That is no longer the case with the AMD K8 (Athlon 64 series and most Semprons) processor as the memory controller is now integrated into the processor.

Important Information:
1. Socket 754 processors support single channel (64bit) DDR SDRAM of up to 400MHz (DDR400) frequency.
2. Socket 939 processors support up to dual channel (128bit) DDR400 memory.
3. All Socket AM2 processors support up to dual channel (128-bit) DDR2 667, with the exceptions of Athlon 64 X2 and Athlon FX models supporting up to dual channel DDR2 800 memory.

Since the processor determines the Socket 754, Socket 939 and Socket AM2 motherboard's memory support, the only thing you need to check is the number of memory slots provided on the motherboard.

Graphics Support
There are two types of graphics support on motherboards: onboard graphics (or onboard video) and the video card interface/slot. Many desktop motherboards utilize chipsets with integrated graphics units which are not quite as powerful as most discrete (add-on) video cards in terms of 3D rendering power in games and other 3D applications. These motherboards are perfect for basic business and general home usage, however, since the user does not have to invest more for a discrete video card.

The video card interface, also known as the bus connector, acts as the bridge between the video card and the motherboard. Three types of video card interface are used for video cards:

1. PCI
The PCI slot offers the maximum bandwidth of just 133MB/s. It has been in use for a very long time and is no longer the mainstream interface for video cards.

2. AGP
The AGP interface was the replacement for PCI and has been developed over the years to encompass the AGP 1X (266MB/s bandwidth), AGP 2X (533MB/s bandwidth), AGP 4X (about 1GB/s bandwidth), and AGP 8X (about 2GB/s bandwidth) interfaces. AGP 8X is the fastest and is downwards compatible with AGP 4X; while AGP 4X is downwards compatible with AGP 2X, and so on. Currently, PCI Express is rapidly replacing AGP as the former provides higher data bandwidth.

3. PCI Express
The PCI Express standard can be broken down into the PCI Express x1 (500MB/s bi-directional bandwidth), x4, x8, and x16 standards, with PCI Express x16 (8GB bi-directional bandwidth) used mainly for video cards.

If you are planning to build the ultimate gaming computer, then you may consider an NVIDIA SLI or ATI CrossFire video card configuration. This entails selecting a motherboard with SLI or CrossFire support to enable this function. These motherboards provide more than one PCI Express x16 video card slot, but not all motherboards with two PCI Express x16 slots automatically support SLI/CrossFire. Last but not least, an SLI-capable motherboard does not necessarily support CrossFire due to video card driver issues, and vice versa.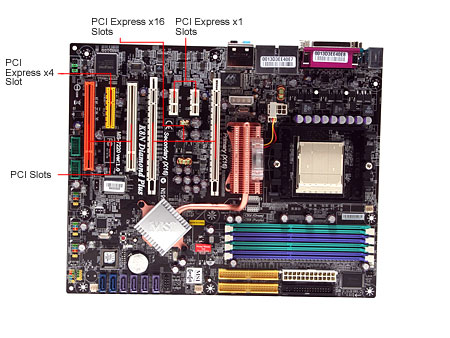 Expansion Slots
Expansion slots are used to install add-in cards such as sound cards, TV tuner cards, network interface cards and HDD/RAID cards. These add-in cards add additional functionality or connectivity to your computer. If you plan on using these cards, make sure the motherboard provides sufficient expansion slots for all your cards. One thing to remember is that PCI Express slots and PCI (PCI is not equal to PCI-X) slots are different and are not compatible with each other. Installing a PCI card into PCI Express slot is not possible, and vice versa.

Also, note that there are different specifications of PCI Express cards and they should be installed into the corresponding slots. For example, a PCI Express x1 card should be installed into a PCI Express x1 slot (or above, such as x4/x8 slot) and a PCI Express x4 slot (or above, such as x8) slot can be installed with a PCI Express x4 card.
IDE/PATA/SATA Device Ports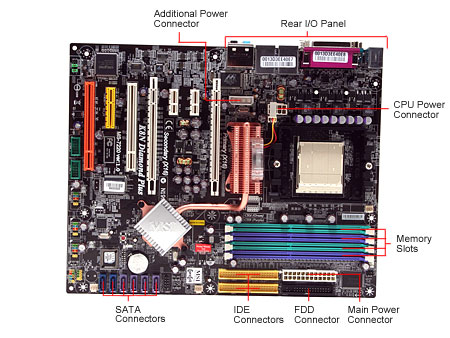 PATA (Parallel ATA) and SATA (Serial ATA) ports are used for the connection of hard drives and optical drives. ATA is the acronym for Advanced Technology Attachment. It has been an industry standard hard drive interface for 15 years. ATA uses a 16-bit parallel connection to make the link between storage devices and motherboards, and is also called PATA to distinguish it from the newer SATA standard. In additional, ATA is also known as IDE or EIDE (Enhanced Integrated Drive Electronics).

Currently the two most popular standards for ATA hard drives are the ATA-6 (which is also known as Ultra ATA 100 or Ultra DMA 100) and ATA 133. The maximum bandwidth for the former is 100MB/s, and 133 MB/s for the latter. Most of today's optical drives utilize the IDE/PATA interface.
| | |
| --- | --- |
| | |
| IDE/PATA (Ultra ATA 100) Cable | SATA Cable |


The newer SATA interface is also an industry standard for connecting hard drives to computer systems, and is based on serial signaling technology. The advantages over PATA include longer, thinner cables for more efficient airflow inside a computer chassis, fewer pin conductors for reduced electromagnetic interference, and lower signal voltage to minimize noise margin. SATA also offers improved bandwidth over PATA - the SATA 1.0 can reach a maximum of 1.5Gb/s (150MB/s), while the latest SATA 2.5 standard can support up to 3Gb/s (300MB/s). The latter also sports additional features such as NCQ (Native Command Queuing), port multiplier and port selector, although certain non-SATA 2.5 devices may also provide some of these features. As a result of so many advantages, the SATA interface is gradually replacing PATA as the mainstream hard drive interface in the personal storage market.
RAID
Some Southbridge chipsets feature RAID support. RAID (Redundant Array of Independent/Inexpensive Disks) is a method of using multiple hard drives together for data storage. A RAID system with multiple hard drives appears as a single drive to the operating system. Depending on the RAID level, the benefits provided by RAID is one or more of the following: better throughput, fault-tolerance or capacity (or something else) when compared to single hard drive.
1. RAID level 0 (or RAID 0) is known as striping, where data is striped across multiple hard drives. RAID 0 provides the most advanced throughput and capacity, but offers no fault-tolerance.
2. RAID level 1 (RAID 1) is known as mirroring, which stores the exact same data within at least two hard drives, this method shows excellent fault-tolerance and reliability, but delivers less capacity efficiency.
3. RAID level 0+1 and RAID 1+0 are both striping and mirroring, providing good fault-tolerance and throughput all at the same time. There are other RAID levels available too, such as RAID level 5 and RAID level 6.
Other Connections
PS/2
PS/2 ports connect the keyboard and mouse to a computer and are usually color-coded on today's systems - purple for keyboards and green for mice. Most desktop motherboards still provide PS/2 ports, but an increasing number of keyboards and mice are using USB ports.

USB (Universal Serial Bus)
The USB port is a very popular I/O interface standard used for connecting computers and peripherals or other devices. It is capable of supporting up to 127 daisy-chained peripheral devices simultaneously. The latest USB 2.0 specification can deliver 480Mbps data transfer bandwidth.

IEEE 1394
Also known by the trademarked names of FireWire and i.LINK, IEEE 1394 is a standard for high-speed transfer of digital information. It is one of the most popular standards for connecting computers and other digital devices to various components and peripherals, such as external hard disk drives, scanners and digital video camcorders.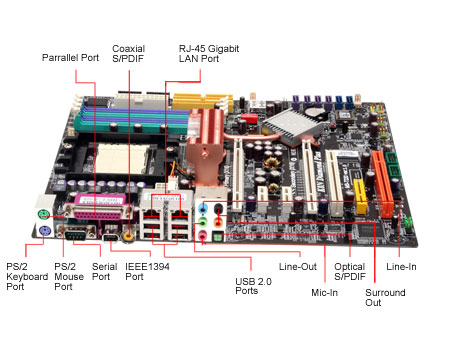 Onboard Devices
Audio
Most motherboards provide the "AC' 97" or "HD Audio" codec onboard sound solution. AC '97 is the audio standard/architecture developed by Intel in 1997. It delivers multichannel 16-bit, 48 KHz recording and playback, with optional support of 18-bit and 20-bit resolution sound and up to 96 KHz sampling frequency (stereo). HD (High Definition) Audio was developed by Intel as well, and was released in 2004 and is meant to replace the AC '97 specification. HD Audio-based hardware can deliver up to eight sound channels at 192 kHz/32-bit quality, which is an improvement over AC '97.

The sound output ports are often color-coded as well, and depending on the numbers of input/output channels, the number of analog I/O ports vary. However, Mic-In, Line-In and Line-Out ports are always provided. Many motherboards offer S/PDIF (Sony/Philips Digital Interface) as well. S/PDIF is a digital audio interface widely used in consumer electronics and sound cards. There are several different types of cables and connectors for S/PDIF:
1. Coaxial or RCA jack, digital audio information is transferred in the form of an electronic signal.
2. Optical or "TOSLINK", all information is transferred in optical signal form.

LAN/ Networking
Almost all contemporary motherboards provide integrated LAN functions, rated either at 10/100Mbps or 10/100/1000Mbps. These numbers shows the theoretical maximum throughput of the network interface card (onboard LAN controllers in this instance). Some high-end motherboards even provide two LAN ports for users connecting more than one network device without needing an add-in card.

Although 1000Mbps (1 Gigabit/s) seems much higher than 100Mbps, the real life performance may not be that different - unless you connect to a network/device that supports such high speeds.

Note: If the LAN controller is connected to the motherboard PCI bus, it will not be able to deliver the full 1000Mbps speed due to bandwidth limitation (133MB/s) of the PCI bus.

HDD/RAID
As an addition/expansion to the Southbridge chipset, some manufacturers integrate additional hard drive controllers onto certain motherboards (especially high-end products) to provide more PATA/SATA connections. Some of these controllers support RAID functions as well.
Form Factor
In computing, form factor is an industry term for the size, shape and format of computer motherboards, power supplies, cases, add-in cards and so on. Here we will focus on the size and layout of the motherboard. It is important to choose a computer case that accommodates the motherboard form factor.

There are two major form factors where desktop computer motherboards are concerned: ATX (Advanced Technology Extended) and BTX (Balanced Technology Extended). ATX was developed by Intel in 1995 and was designed to replace the AT/Baby AT form factor. There are many variants of the ATX form factor in the form of smaller boards (such as microATX and Flex ATX). These usually provide the basic rear layout but reduce board size and the number of expansion slots. The following table shows the major ATX form factors utilized by today's retail motherboards.



BTX is a newly developed form factor. BTX motherboards utilize new layouts for better heat dissipation and airflow. There are also smaller sized BTX from factors as well, such as microBTX and picoBTX.



The ATX form factor is still the mainstream form factor currently. Only a few retail motherboards utilize the BTX form factor. All AMD compatible motherboards are currently ATX motherboards.

As there are a lot of issues or factors to consider when choosing a motherboard, it is almost impossible to provide specific recommendations to meet the infinitely varied requirements out there. Our recommendations here are principles and guidelines that stress particular features/specifications to look for seriously depending on your applications/requirements. Please read the above sections of this buying guide to be sure of your own requirements.

Key Advice:
As we've already stressed above, your motherboard must support your choice of processor. For tips and advice on processors, and the CPU that best suits your requirements, please see our CPU Category Intelligence coverage. Do not rush into the motherboard selection process before you decide what processor to use. When choosing the motherboard, make sure your processor is in the support/compatibility list of the motherboard. Thereafter, make sure the motherboard supports your other requirements.
Basics to Consider
For today's AMD platform motherboard, here are some basic requirements:

Memory Support: This is decided by your processor. To ensure the motherboard supports the capacity you need, please check the number of memory slots the motherboard provides.

Graphics Support: If you do not play 3D games very much at all, and use your computer for basic web browsing, word processing, and image viewing/processing etc., a motherboard with integrated graphics unit will do just fine. Take care, however, to select a motherboard featuring the video card interface/slot you need if you may upgrade to a discrete video card sometime in the future.

For gamers and those who play 3D games from time to time, or someone who wants rich video input/output capability, a discrete (add-on) video card is still a necessity. If you do not have or do not want to keep an old AGP video card, a motherboard featuring a PCI Express x16 slot is definitely your best choice.

PS/2: 1 for keyboard and 1 for mouse. If you are going to use USB keyboards or mice, please ignore this.

USB: 4 or more USB 2.0 ports.

PATA/IDE: 1 for every two optical drives. If you want to continue using IDE hard drives, decide the number of PATA/IDE interfaces you need on the motherboard according to the number of IDE hard drives you will be using.

SATA interface: 4 X SATA 1.5Gb/s or 3Gbps ports.

LAN: 1 X 10/100Mbps or 10/100/1000Mbps, with our recommendation on the latter choice.

IEEE1394/Firewire: If you own or plan on owning a digital video camcorder or other devices featuring the IEEE1394 port, an onboard IEEE1394 port can prove to be very helpful with direct data/file downloads.

Form Factor and Expansion Slots: While the standard ATX form factor is the mainstream form factor at the current time, if you do not require the installation of a large number of add-on cards, a microATX motherboard can save you a lot of space when installed in a microATX case.

If expandability is a major concern, a standard/full-size ATX motherboard is really the only way to go. Although PCI Express is replacing PCI, most add-in cards on offer are still PCI cards and they will continue to be for some time. Please select a motherboard with a sufficient number of PCI slots for your expansion plan.
Pay Extra Attention to…
RAID: RAID disk systems use more than one hard drive. If you do not plan on investing more than is necessary for hard drives, the RAID function shouldn't be a significant consideration for you. Of course, if you have or are planning to buy several hard drives and demand higher throughput capacity or better data security, RAID was made just for you.

SLI/CrossFire: As we described in the above sections, high-end gamers who plan on building multi video card setups should choose motherboards with support for either NVIDIA SLI or ATI CrossFire according to their multi video card solution (ATI or NVIDIA), otherwise, the video card drivers will not work.

Legacy Ports: LPT (parallel port) and COM (serial port) ports are considered legacy ports. These have been replaced by USB ports. If you have devices featuring legacy connectors, you may want to find a motherboard that features legacy ports.