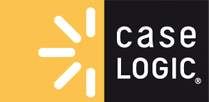 14in. Laptop Backpack Model DLBP-114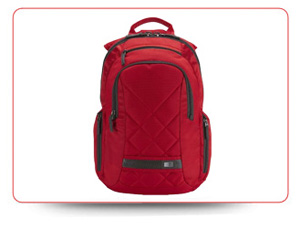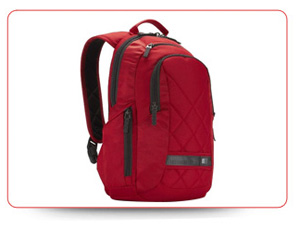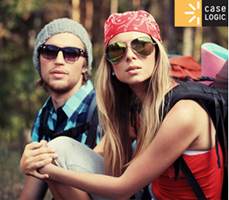 Heading to class or traveling to meet an important client is easy with this comfortable and functional backpack. Stylish in the boardroom or on campus, this backpack has a 14in. laptop compartment, device and stationary storage, and a felt-lined safety pocket for toting sensitive cargo. The shoulder straps are breathable and quilted so you'll be comfortable while you carry your essential gear.
Tailored with ultimate comfort and usability in mind, this backpack boasts a unique style suitable for the active professional or one heading back to school in the fall.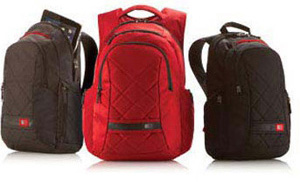 This stylish and functional backpack is perfect for business, travel, leisure or school. Separate laptop compartment holds laptops with a 14in. screen and both 13in. and 15in. MacBooks. Multiple pockets throughout the backpack hold and organize all your travel and personal essentials. Quilted padding on the front and shoulder straps offer added cushioning and comfort. Backpack is constructed of 100% PVC-free materials and comes in black, red, and dark gray.

---
High-quality materials are used throughout this exceptionally crafted backpack, which is backed by a 25 year warranty against defects in materials and workmanship. The DLBP backpack collection comes in three colors: black, dark gray and red. The sleek exterior design features a quilted front panel complemented with textured material side panel accents. Large-gauge zippers are used on the main compartment to ensure a smooth, snag-free glide along the teeth. Air mesh on the shoulder straps provides comfort and breathability. Exterior materials are water-resistant. This backpack is 100% PVC free.
---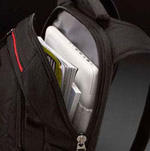 Main Compartment with Laptop Storage
The main compartment includes an integrated laptop pocket that separates your laptop from your belongings. Perfect for a 13in. or 15in. MacBook/Pro or 14.1in. laptop, this pocket is fully padded with high-density foam and measures 9.9in. x 1.7in. x 14.3in. Additional space in the main compartment can be used for a packed lunch, reading materials or other personal items.
---
Exterior Side Pockets
Two external zippered pockets provide additional storage for a MP3 player, camera, cords or other accessories. The vertical zippers open top to bottom to keep contents from spilling out while accessing the pockets.
---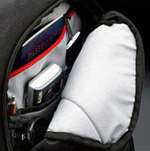 Accessory Storage
The spacious front pocket includes an elevated organization panel that keeps a cell phone, MP3 player, pens or other devices suspended above the bottom of the pocket which leaves room for a power brick, cords or other bulky items. A secure, zippered slip pocket on the back panel of this compartment safely stores a wallet, ID, passport, keys or other valuables.
---
Quick-Access Pocket
The large zippered drop pocket at the top of the backpack allows quick access to your smaller personal items. This pocket is lined with a scratch-resistant material and is ideal for sunglasses or a touchscreen device.
---
Strap Management System
Keeps excess strap material rolled up, secured in place and out of the way after you adjust shoulder straps to your desired fit.
---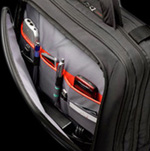 Smart Organization
This panel provides dedicated slots and pockets for electronics and accessories.
Features
An integrated laptop compartment holds laptops with screens up to 14.1in.
Also compatible with 13in. and 15in. MacBooks
Front pocket of the pack includes an organization panel that stores your cell phone, iPod and other essentials while also allowing plenty of space for power cord
A zippered safety pocket secures your passport or airline ticket
A felt-like, scratch resistant pocket in the top is ideal for sunglasses or touch screen mobile phone
Innovative strap management system keeps excess strap material rolled up, secured in place and out of your way
Side zippered pockets offer quick access to smaller cords, keys or a snack
Quilted padding on the front of the pack and the shoulder straps provide added cushioning
Air Mesh on the shoulder straps maintain comfort and breathability
PVC free - feel good about purchasing environmentally responsible products
SPECS & TECHNOLOGY
| | |
| --- | --- |
| Size (l x w x h): | 17.3in. x 6.3in. x 13.4in. |
| Fits Devices (l x w x h): | 14.3in. x 1.7in. x 9.9in. |
| Materials: | Polyester |
| Volume: | 793.3cu. in. |
| Warranty: | 25 years |