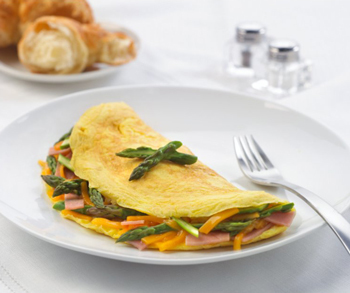 The Calphalon Unison 10" Omelette Pan with Slide Nonstick and 3 Quart Saute Pan with Sear Nonstick represent elite design technology for an up and coming master chef. This line has 2 different nonstick surfaces to give great results, and limit mistakes, while you improve on your culinary techniques. The Unison line also has all of the features to perform how the professionals expect. The heavy gauge hard-anodized aluminum, nonstick cooking surface, and sloped sides for easy tossing and rolling will have you creating masterpiece after masterpiece in no time.






Premium heavy gauge hard-anodized aluminum is dishwasher safe


Cook with little or no oils, butter or fats


Handles stay comfortably cool on the stovetop


Includes Lifetime Manufacturer's Warranty


---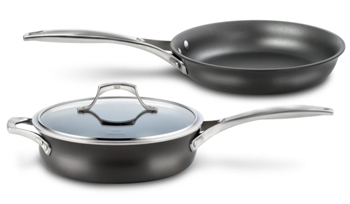 Hard Anodized Aluminum
Heavy gauge aluminum material that will never chip or crack.
Calphalon Exclusive Two Surface Technology
Keeps pan versatile to prepare sauces or meats/vegetables perfectly each time.
Non-Stick Feature in Each Pan
Prepare food without sticking so you can leave unnatural oils, butter, or fats out of the recipe.
Domed Glass Lid with Metal Rim
Designed to lock in moisture usually lost during cooking process.
---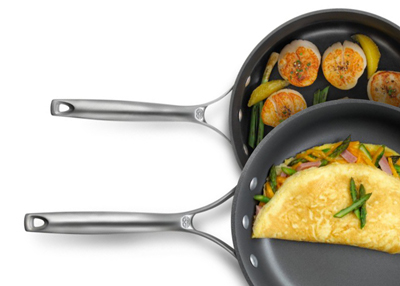 Ergonomic Sleek Handle Design
Fitted technology for easy pan handling that will not warm as the pan does.
100% Dishwasher Safe
Fast and easy clean up possible with dishwasher safe feature for all pans/lids.
Oven Safe Pan Set
Keep food warm longer with oven safe feature for up to 500 degrees.
Safe Utensil Recommendations
Guard against early wear and tear with nylon, coated, or wooden preparations tools.