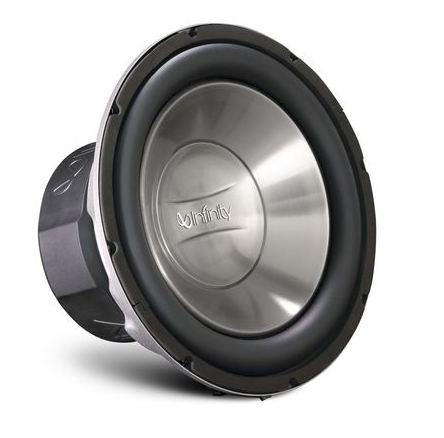 INFINITY 10" 1100W Car Audio Subwoofer Sub- REF1062W
To Infinity, and Beyond Your Normal Woofer
Some think of the 10 inch subwoofer as a compromise of power handling, sensitivity, space and performance. In most cases, this would be true; however this Infinity makes no compromises when it comes to sound quality and crisp bass.
Infinity's product quality and excellence stem from their passion for music. This fact is evident in each of their lines, with no exception to their Reference Series subwoofers. Whether you listen to rock, hip-hop, jazz, country or anything else, these woofers will shine through with every note. High-gloss polypropylene woofer cone is lightweight which assures maximum efficiency which produces high output with modest amplifier power. This in no way means the Reference woofers don't have a sound quality side, far from it.
Sound quality is the name of Infinity's game, and every beat will be smooth, crisp, and hard hitting. The large-roll rubber surround absorbs distortions that travel through the cone, ensuring clean bass response. Vented polepieces help cool the motor structure which allows for an increase in power handling. Engineering at Infinity is state-of-the-art and a great deal of computer aided design software is used to devise their products. This commitment shows in all of their product lines, and with such a good reference, it's a no brainer.