Description
JLab Audio
Bouncer

Premium Home Bluetooth Speaker (White)

The Bouncer Bluetooth Speaker packs the power of hi-fidelity, room-filling surround sound in a compact, elegantly modern home stereo. With instant Bluetooth connectivity and its space saving design, The Bouncer's got any room covered.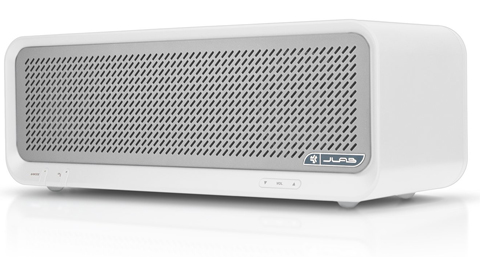 Bounce the Party – Turn your study into a concert hall with warm, rich, full-bodied sound, or turn your living room into a dance floor with club-shaking bass and super clear mids and highs. From dorm rooms to upper west side lofts, The Bouncer's got all the muscle you need to bounce the party.
Feel the Beat – With a pair of custom-designed super drivers and dual, high-flow rear-bass ports, The Bouncer's got the power to back up the swag. Finely tuned with real-time digital audio processing, and JLab's legendary sound signature.
Bluetooth or Not! – Use your Bluetooth-enabled mobile device to wirelessly link to The Bouncer from up to 30 feet away. No Bluetooth? The Bouncer's got your back. The built-in aux connector makes it easy to plug-and-play from any device. And the included wireless remote allows you to control The Bouncer from across the room.
The 9-to-5 – It's not always clubs, after-parties, and dance floors. That's why The Bouncer stays clean cut for the board room, client pitch, or home office. The Bouncer packs a built-in microphone, so taking a Bluetooth call is effortless, with seamless switching from playin' music to makin' deals.
Take Charge –The Bouncer's rear USB port makes charging smartphones and other portable devices easy. Follow the golden rule: always be charging.
---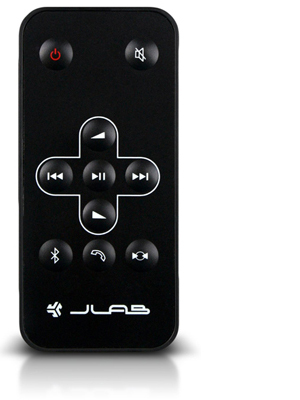 Features
Connect via Bluetooth up to 30 feet away!
Full Size powered USB Port charges mobile devices
Built-in AUX connection if you do not have Bluetooth!
Built-in microphone
Specifications
Two 12-Watt Super Drivers & Dual Rear Bass Ports
Requires AC Power
Full Size powered USB Port
BT2.1 30ft Range
Aux Connection for non-BT devices
Dimensions: 13" x 5.5" x 4.5"
Gallery