Premium Audio, All-Day Comfort, and Intuitive Call Management
Put on the Blackwire 500 Series headset and take calls. It's that simple. It easily and intuitively juggles PC calls and multi-media using audio alerts to manage connections, mute and volume status. With easy portability, it offers premium hi-fi stereo audio (Blackwire 520) and all-day comfort at work or at home. It also offers corded reliability.
It is available in four models C520 (Dual-ear hi-fi stereo, UC standard version), C510 (Single-ear mono, UC standard version), C520-M (Single-ear mono, Microsoft-certified version) and C510-M (Single-ear mono, Microsoft-certified version).
Dual-ear hi-fi stereo is ideal for those who want a richer, more immersive audio experience.
Single-ear mono is ideal for users who prefer to leave one ear open to their environment.
The UC standard version is built for applications and softphones from Avaya, Cisco, Skype and more.
Microsoft-certified version optimized for Microsoft Lync and Microsoft OCS 2007.

Highlights
Smart Sensor Technology
Answer a call by simply putting on the headset. The Blackwire 500 Series headset employs the industry's first Smart Sensor technology for intuitive calls and audio management. Be more productive right away.
Superior Audio Quality
The Blackwire 500 Series enables a truly outstanding audio experience in office or at home. It offers PC wideband, noise-canceling microphone and hi-fi stereo sound (C520). The Dynamic EQ feature optimizes your voice quality when on calls and automatically adjusts the EQ settings when you're listening to music or multi-media.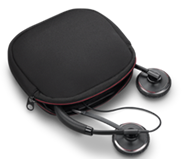 Comfort and Portability
Ultra-soft leatherette ear cushions and lightweight headband mean all-day comfort and a secure fit. Features ear cushions that fold flat, and includes a high-quality carrying case for easy storage and portability.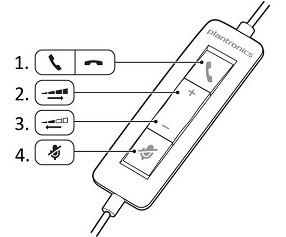 In-Line Controls
Simple, intuitive, inline controls let you answer/end, mute, and control the volume of your calls with ease. Inline indicator lights and user friendly audio tones alert the user to connection, mute and volume status.
Call answer/end*
Due to the Smart Sensor Technology, calls can be answered by simply placing the headset on your head.
Volume up
Volume down
Mute
*For call control, Plantronics Spokes Software may be required.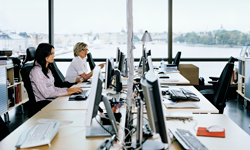 Software-Enabled Functionality
Call control across multiple softphones
Headset control panel allows for customization of settings, including call notification and related options
UC presence automatically updated when on a call