Overview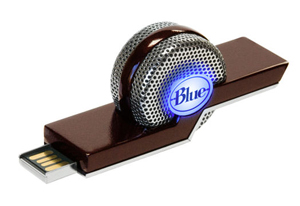 never sacrifice clarity.
The new Tiki is the world's first USB microphone that mimics the intelligence of human hearing by focusing on desired sounds, minimizing background noise and knowing when to mute altogether. Tiki's two modes give any Skype user, podcaster or musician the versatility to quickly choose the best option in any situation. First, Intelligent Speech Mode brings your voice to the forefront of a conference call or chat while noise-canceling technology simultaneously minimizes unwanted, competing background noise. Natural Recording Mode captures a wide range of sources from vocals to acoustic guitar, recording high-fidelity audio with exceptional clarity. Tiki sets a new standard for crystal clear audio for wherever you go.
Technology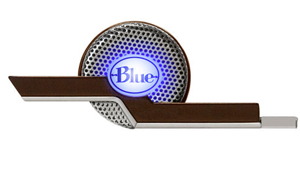 Intelligent ultra-compact USB microphone
Brings your voice to the forefront using voice isolation and noise-cancelling technology
Improves vocal clarity for online communication like Skype and iChat, and voice recognition software
Reduces computer fan and typing noise by intelligently auto-muting
Recording mode optimized for podcasts and music recording
Multi-colored LED indicates muting status and more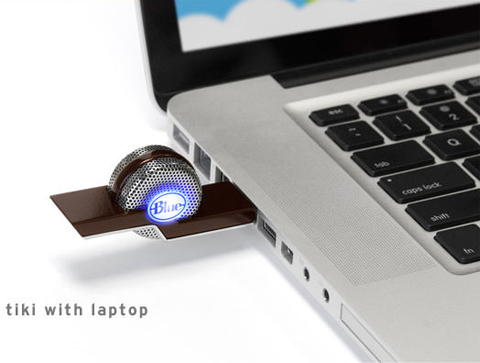 Specs
| | |
| --- | --- |
| Compatibility | PC and Mac with USB 2.0+ |
| Set Up | Plug 'n play with no drivers needed |
| Audio | CD-quality, 16 bit 44.1 k, 40Hz-20kHz |
| Inner Workings | Two custom condenser capsules with advanced DSP |
| Includes | Extended docking cable and carrying case |
| Size | Less than three inches |
System Requirements
PC: Windows 8, Windows 7, Windows Vista, XP Home Edition or XP Professional
USB 2.0; 64 MB RAM (minimum)
Macintosh: Mac OSX (10.4.11 or higher)
USB 2.0; 64 MB RAM (minimum)
FAQ
How does Tiki work exactly?
It has two ears and a brain-- actually, two capsules and one very powerful (400MHz) DSP chip which constantly listen and compare the signal from the two opposite-facing cardioid capsules. The DSP decides which signals to pass through and compares the signals to help remove background noise. In addition, it applies noise-reduction algorithms co-developed with iZotope and then applies intelligent muting, which soft mutes whenever you aren't speaking.
Who is iZotope?
iZotope engineering is the leader in audio processing technologies-- they've developed many of the most popular audio processing algorithms as used in professional studio software, live/broadcast, video games and played an integral role in developing the noise-reduction modes used in Tiki's intelligent listening mode.
Is Tiki good for recording?
Yes. With the push of a button, Tiki's natural recording mode behaves like a traditional microphone, and applies only minor processing to add presence and proximity to the signal from the mic-- everything is done in real time, in hardware.
Does Tiki require any software?
No. All processing is done completely inside the Tiki hardware and requires no drivers or system resources to operate. Just plug it in and go!
As the Tiki is a compact USB model, which is the recommended microphone conference applications if you had multiple people at a table for a "skype" style or "go to meeting style" in-office conference call?
The Omni mode on Yeti or Snowball will be a better choice for a larger group conference calls with more than two people. While Tiki would work, it is inherently well-suited for picking up what is in front and behind—not all around—making it best for one-on-one or two-on-one conversations.