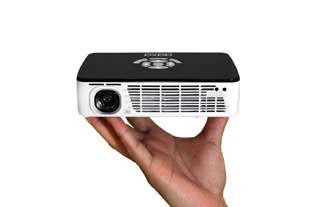 AAXA Technologies is excited to introduce the P300 Pico Projector – the brightest HD pocket projector in class.The new P300 features a revolutionary new compact optical engine capable of delivering 400 peak lumens at a high-definition (HD) resolution of 1280x800.
Powered by Texas Instruments' DLP Technology the AAXA P300 employs Vibrant Color LED technology that delivers dazzling color quality with an operating life of more than 15,000 hours and is capable of generating a viewing experience of up to 120" in a light-controlled environment.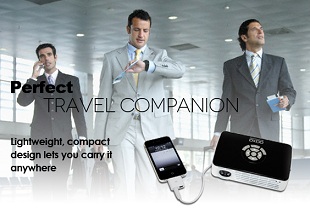 The small size of the P300 allows you to carry your presentations with you anywhere you need it. Instead of trying to host a meeting with alaptop or brochures, you can stretch your content to an incredible 120 inches.
With the latest LED Technology, bulb changes are a thing of the past. LED's last up to 15,000 hours, 5 times longer than a traditional lamp projector. With the onboard battery, you can truly go mobile with no additional messy cables.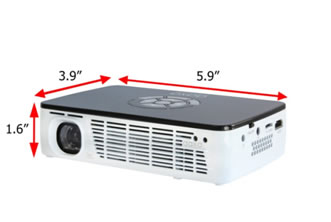 The P300 is a true "pocket projector" at less than 5.9" long, 3.9" wide, and 1.6" tall, it is both compact andenergyefficient- consuming less than 25W when plugged in.
The LED's give you 15,000 hours with no worrying of buying replacements or having bulbs burn out, a good substitute for your portable projector at less than 2 lbs. The ultimate solution for portable presentations in a compact design.

Using the P300's powerful keystone correction, projecting at an vertical angle is a problem of the past. Misshaped images, graphics and charts can now be turned into a perfect squares.
The AAXA P300 Pico Projector gives teachers the power to provide an interactive learning experience. Students will be excited to learn as they view the bright, colorful image that brings their favorite subjects to life.
The P300 provides instructors with an endless amount of teaching curriculum and allows students to seamlessly share notes and study in a group. With multiple inputs, teachers can provide content with their favorite media devices including, iPads, iPhones, and more.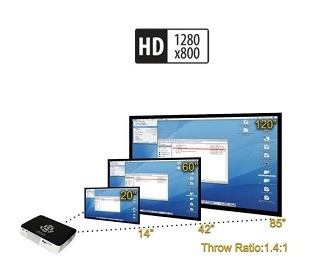 Through the Liquid Crystal on Silicon (LCoS) imager the P300 delivers highest-in-class resolution of 1280x800 (HD) which is 30% more pixels than most other pico projectors.
The P300's bright and powerful engine allows you to project in controlled-lighting environments up to 120'' and comfortably at 40'' in a well-lit room.

With inputs for digital and traditional devices you can directly connect and mirror your tablets, smartphones, consoles, or Blu-ray player. The P300 also has expandable memory via USB/SD, with the embedded MP4 player with support for dozens of popular media files you can plug in your USB/SD card for true portability and mobility.
Additional features include adjustable tripod, 1280x800 VGA input support, 1280x800 HDMI support, Micro SD Card slot, USB port, composite video input, and 3.5mm headphone jack plus 2 onboard 1-watt speakers.