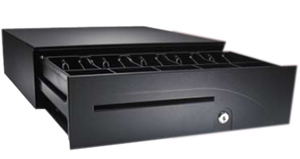 APG Series 100 1616 Cash Drawer
Small in size, the APG Series 100 Cash Drawer does not compromise efficiency. It actually improves upon it because it increases the effectiveness of your workstation.
Designed around a full size till, the narrow footprint of the APG Series 100 Cash Drawer minimizes the amount of counter space required. There is ample storage in a deep under-till compartment to hold coin rolls and packaged currency. An adjustable media slot divider separates and organizes different media types.
APG Series 100 Features
With features including steel ball bearing slides and a robust latch mechanism, the APG Series 100 is proven beyond 4 million cycles.
A durable till design and the resilient powder coat finish resist the abuse in even the toughest environments. Size, color, interface, accessory and configuration options complete the Series 100 solution.
---
a. Adjustable Media Divider
Media divider easily snaps in and out of place for several organization options.
b. MultiPRO® Interface
The MultiPRO interface adapts to most POS platforms.
c. Four–Function Lock
Proven four-function lock offers several levels of security: locked closed, locked open, online, manual open.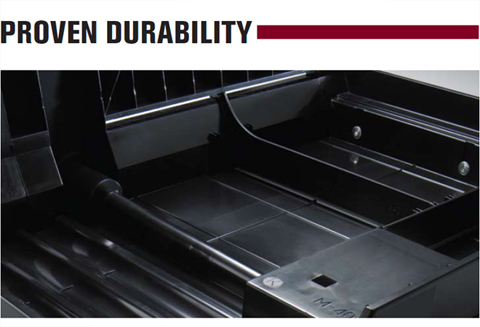 An adjustable media slot divider organizes different media types.
Industrial-Grade Steel Ball Bearing Slides - Ensure effortless performance and durability


Heavy Duty Latch Mechanism - A perfect balance between ease of operation and robust construction.


Heavy Duty Till - Equipped with strong dividers and comfort coated hold downs.


Rugged Materials - Sturdy steel, durable plastics and a resilient powder coated finish are able to resist the toughest environments.


Robust Engineered Suspension - Guarantees seamless performance.


Reliability - Tested to 4 million operations.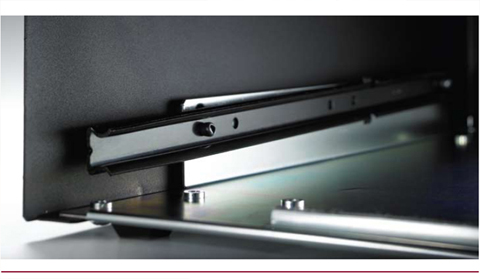 Superior Opening Technology
Inclined drawer slide allows for consistent opening speed.