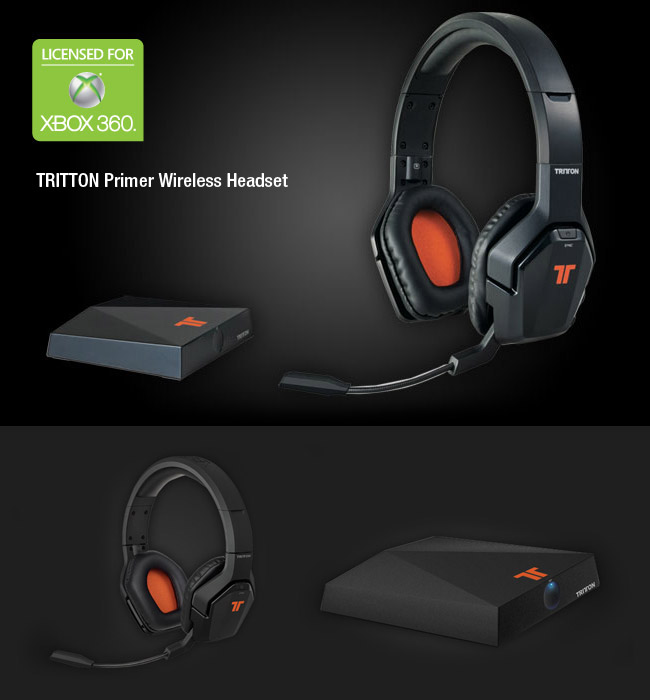 Primer™ Wireless Stereo Headset for Xbox 360®
5.8 GHz Wireless Technology
Separate Game and Voice Volume Controls
Deep Bass and Crisp Highs
Ergonomically Designed for Extreme Comfort
Primer Wireless Stereo Headset for Xbox 360

Officially licensed for the Xbox 360 console, TRITTON's Primer Wireless Stereo Headset uses proprietary 5.8GHz wireless technology to provide clear and precise game audio. Access to critical headset functions like volume and mic-mute are only a finger-tap away. With the ability to independently adjust chat volume and game volume on-the-fly, you gain the power to easily fine-tune your audio experience.

Includes Everything Needed to Connect to any Xbox 360

Whether your console is legacy or current-gen and connected to a display via HDMI or component/VGA/composite, the Primer is ready to go right out of the box. All required cables and adapters are included to help ensure you can connect to any Xbox 360 within minutes.
Premium 5.8GHz Wireless Technology Provides Crisp Stereo Game Audio

The Primer's proprietary 5.8GHz wireless technology offers far superior audio clarity when compared to the industry standard 2.4GHz. Many wireless products on the market today are on the 2.4GHz band and if your headset operates within this frequency, it's prone to interference from cordless phones, Bluetooth devices, and even your microwave oven. The Primer's 5.8GHz wireless range sidesteps potential interference by utilizing a much larger bandwidth.
Amplified 40mm Speakers with Neodymium Magnets

Utilizing the highest quality drivers available for use in commercial headsets—Neodymium—high-fidelity game and chat audio is pumped through a pair of amplified 40mm speakers for rich bass and crisp highs.
Separate Game and Voice Volume Controls

If the chat audio coming through your controller gets distracting and starts to hinder your online gameplay experience, a quick adjustment of the volume knob will tune your opponent out. Game volume can also be adjusted on-the-fly so you can drown out your foe's voice but still hear stealthy in-game footsteps creeping up behind you.
Ergonomically Designed for Extreme Comfort

When gaming for hours on end, headset comfort is a must. The Primer delivers with a padded, adjustable headrail - which extends an extra 1.25 inches on either side to accommodate a wide range of head sizes - and soft, pliable earcups which keep ambient sounds at bay. The earcups also swivel to provide a comfortable around-the-neck resting position.
Sound
Speaker Diameter: 40mm
Magnet Type: Neodymium
Ear Coupling: Supra-Aural
Wireless Frequency: 5.8GHz
Wireless Range: 33ft (10m)
Connection
Xbox 360 Audio Input Type: RCA
What's Included
Primer Wireless Stereo Headset
Base Station
RCA Adapter Cable
Analog Audio Adapter
USB Cable
Headset Connector Cable
Two AA Batteries
Quick Start Guide
User Guide