Features
Outdoor-ready with Arctic Temperature Control
-40 - 122°F (-40 - 50°C)
Lightfinder Technology
Day/night functionality
Easy installation with remote back focus
Outdoor-Ready surveillance
The IP66-and NEMA 4X-rated AXIS Q1602-E offers aluminum and robust casing, and a sunshield, to simplify installation time and costs. It is protected from dust, rain, snow and sun, and can operate in temperatures from -40 - 122°F (-40 - 50°C) using High PoE (30W). The camera not only functions at -40°F (-40°C), but it can also power up at that temperature following a power failure. This feature is known as Axis' Arctic Temperature Control. To guarantee heating, multiple heaters are placed in direct contact with the camera and the window. AXIS Q1602-E offers a dual shell technology, where an internal shell stores heat in cold environments. A fan ventilates the air in hot environments, where the heat is transferred to the outer aluminum chassis for efficient cooling.
Ease of installation
One-cable installation thanks to support for PoE. A sunshield and a wall bracket are included to facilitate the installation. For higher flexibility, three cable gaskets holes are available for an Ethernet cable, a power cable and for an external device connected via the camera's I/O ports. In addition, the cables are vandal protected and the front window is replaceable. The camera's focus assistant indicates when the image is in focus by the flashing front LED of the camera. Having performed rough focusing at the lens, the remote back focus capability of the AXIS Q1602-E is conveniently used for fine tuning focus.
Axis' Unique Lightfinder Technology
AXIS Q1602-E incorporates Axis' revolutionary Lightfinder technology, giving more life-like colors in low-light conditions. The outdoor-ready AXIS Q1602-E offers the same high-quality features as AXIS Q1602 Network Camera.
2012 Government Security Awards winner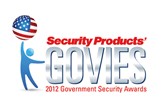 The AXIS Q1602-E Network Camera collected the platinum award in the "Perimeter Security" category at the Govies Government Security Awards at GovSec in April 2012.
More features
Support for IP66 and NEMA 4X protection rating against the ingress of dust, windblown dust, rain, high pressure water jets from any direction, hose-directed water, and damage from external ice formation.
Support for 4M3 vibration standard and IK10-rated, including the window, for protection against impact and vandal acts.
Supports Internet Protocol version 6 (IPv6) in addition to IP version 4 (IPv4)
Support for the Dual Shell technology, where an internal shell stores the heat in cold environments. In hot environments, a fan ventilates the air while the heat is transferred to the outer chassis for efficient cooling.
Three processor-controlled sensors and heat curves regulate the temperature of the camera and the window.
Open Application Programming Interface (API) for software integration, including VAPIX® from Axis Communications.