Onkyo
HT-S5600 7.1-Channel Home Theater Package
Rediscover your favorite movies, music, and games in surround sound with the addition of this seven-channel home theater package from Onkyo. Duck for cover as Dolby Pro Logic II sends bullets whizzing over your head through two front-height speakers, or just relax into a soundstage that's balanced and optimized courtesy of Audyssey 2EQ acoustic correction, dynamic EQ, and dynamic volume. Four 3D-ready HDMI inputs are provided to connect your gaming consoles and media players, and for music, a front-panel USB for lossless and compressed audio from iPod, iPhone, or flash drive. Invest in a UBT-1 adapter to enable Bluetooth wireless audio streaming technology, with a brilliant apt codec ensuring near CD-quality sound. The work of speaker selection has been done for you a beautifully balanced eight-piece set features a dual-drive center speaker and punchy 120W down-firing subwoofer. There's even powered Zone 2 outputs should you wish to distribute audio in another room -- say, the kitchen or deck. Easy to own, simple to use, and packing a huge amount of power for your dollar, there really is no better time to discover the joys of surround-sound entertainment.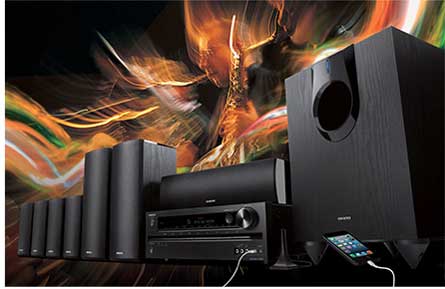 Dynamic Power and Quality from the Home Theater Professionals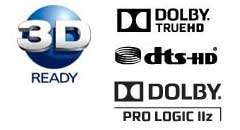 HDMI for High Resolution Playback
Four HDMI Inputs
The HT-S5600 receiver's four HDMI inputs accept hi-res content from your media players and gaming consoles. HDMI enables Dolby® TrueHD and DTS-HD Master Audio™ surround-sound formats, and supports 3D video playback.
Pro Logic IIz creates a surround-sound experience from any movie or music source, even from a stereo source.The system incorporates two front-height speakers to carry ambient audio effects in a vertical dimension for more realistic action.
The single output has an audio return channel, so you can boost your TV's sound through your receiver.

Bluetooth Streaming Ready
Amazing Audio Streamed to Your Onkyo
The optional UBT-1 Adapter produces superb wireless sound quality approaching that of CD audio, due to aptX® enhancement codec and improved capabilities of Bluetooth Version 3.0. Plug it into a USB port and send audio wirelessly from a range of electronic devices.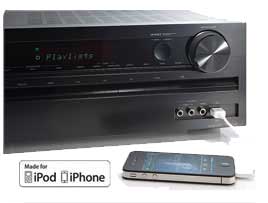 Clearer Sound for Your Mobile Music
Your Library Never Sounded Better!
The HT-S5600 features two USB ports to connect iPod/ iPhone and mass storage devices loaded with music. The direct digital connection carries signals to the receiver in digital format and gives a noticeable boost to audio quality.

The Foundation of Onkyo Sound
WRAT: Wide Range Amplifier Technology
Onkyo's proprietary amps enhance audio fidelity across a wide frequency range to produce clear, true-to-life sound that will amaze you.

Powered Zone 2
And Zone-2 Line-Out
For distributed audio playback in another room, like the kitchen or deck.
Audyssey Technology for Awesome Sound
Auto-adjustments for Optimal Sound
Audyssey MultEQ®
room-correction technology delivers clear, well-balanced, natural sound.
Audyssey Dynamic EQ®
maintains consistent bass, tonal and surround sound effects at different volume levels.
Audyssey Dynamic Volume®
automatically compensates for volume fluctuations, for example during loud commercial breaks.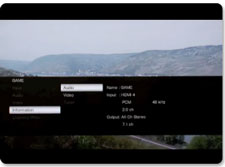 Overlaid Menus
For Quick Adjustments on the Fly
The Quick Set-Up button on your remote puts menus over the program you're watching to switch inputs or change a settings without interrupting your viewing.
Similarly, the Home Menu button calls up simple icons for choosing a media source and menus for system settings.