MTX Dual 12" 1200W Sealed Enclosure and Mono Block Amplifier TNP212D2
This Powerhouse Amp and Dual Twelves Package Delivers Kicking Bass to Any Audio System
The MTX Terminator TNP212D2 is an excellent all-in-one solution for anyone looking to add bass to their vehicle's audio system. The Party Pack is 400 Watts and two heavy twelves of a rocking concert-in-a-box!
Everything You Need for a Great Bass System is in this Package Except Wire!
Loaded Enclosure With Strong Amp
This package includes the TNE212D, a dual 12" sealed subwoofer enclosure and the TNA251, a single channel amplifier specifically designed to work with the enclosure. For over 40 years MTX Audio has been making car audio electronics designed to deliver more than expected - and that is exactly what this package offers.
Overview
Two Heavy Twelves
The TNE212D includes two 12" subwoofers that are capable of handling 200 Watts RMS power making for a total of 400 Watts RMS. This sealed enclosure is made of 5/8" MDF (medium density fiberboard) and aviation grade carpet, ensuring its durability over time.
Rockin' Power
The TNA251 is a 400-Watt mono amplifier power house that is easy to connect to any source, including factory radios. These two pieces together are the perfect choice for anyone looking for an easy-to-install complete system that will rock your universe. Throw the MTX Party Pack in the trunk and watch the people around the parking lot start dancing.
---
Mono Block Amplifier Included
5/8" MDF Construction
Sealed Design for Tighter Bass Response
Video
Specifications
| | |
| --- | --- |
| Subwoofer | Dual 12" |
| RMS Power (Watts) | 400 |
| Height | 14" |
| Width | 29.625" |
| Bottom Depth | 13.5" |
| Weight | 55.1 lbs |
Gallery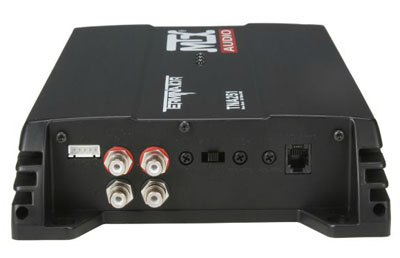 What's in the Box