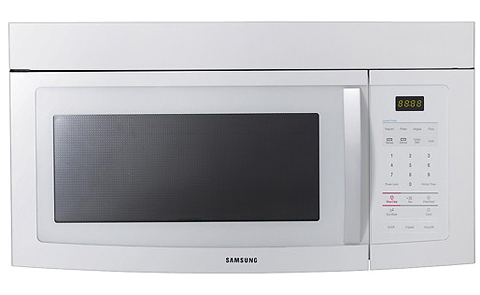 Samsung SMH1713W 1.7 cu. ft. Over-The-Range Microwave - White
Overview
Just when you thought microwave cooking couldn't get any easier, it did. The Samsung SMH1713 over-the-range microwave is home to an array of smart, powerful features that not only deliver better cooking results, but make the entire process easier. And, with Eco Mode, this microwave saves up to 80% more energy when not in use.
This over-the-range microwave features 12 sensor-cooking options that automatically adjust cooking time and power to deliver delicious meals. The 1.7 cu. ft. capacity offers plenty of room for cooking snacks or large meals.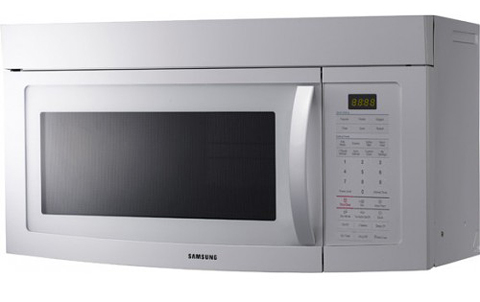 Large Oven Cavity for Big Results
The large oven cavity with built-in turntable makes it easy to achieve superior cooking results.
Simultaneous Programs for Efficient Food Prep
Save time by defrosting food and also programming a two-step recipe simultaneously.
Automatic Defrost Guarantees Accuracy
Take the guesswork out of defrosting. Auto defrost considers the weight of the food being cooked. Simply select the weight and the oven does the rest.
Select Time and Power with One-Button Ease
Easily program your desired cooking time and power level at just the touch of a button.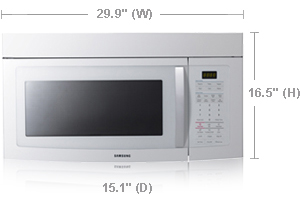 Large Capacity With 1.7 cu. ft. of space
Powerful 300 CFM Ventilation System
Two-Stage Programmable Cooking
Able to Vent outside or Recirculate back into the Room
Dimensions: Height: 16 1/2in.; Width: 29 7/8in.; Depth: 15 1/16in.