The Metropolitan QD-1 Air Force Quick Draw Portable Pet Dryer is an easy-to-use handheld pet dryer great for use at home, in the shop, or on the go due to the compact design and just over 3 pounds weight. This 950-watt dryer produces a large volume of warm air to dry off large, long-haired dogs in minutes. The human hair dryer utilizing heating element is too hot for pets and blows the hair in the wrong direction, and will cause brittle animal coat, dry skin, scalp irritation and sore. This dog grooming dryer uses the friction of motor to produce gentle heat (approximately 25-30 degrees above ambient) that your dog will feel comfortable, making drying pets quick, easy and safe. Plus, this pet dryer is strong and durable with rugged steel body, ensuring years of hassle-free, comfortable grooming for your lovely dogs.
This portable, powerful dryer is strong enough to dry long-haired dogs in minutes.
Small and lightweight to take on the road.
No heating element to cause excessive dryness to the animal's coat.
The Quick Draw features a lightweight yet durable steel body.
The Air Force Quick Draw includes 1.3 HP Motor, 6 Ft. Hose with Air Flow Control, 12 Ft. Power Cord for extra mobility, Shoulder Strap, Air concentrator Blower, Air Flare, and a Table Mounting Hook.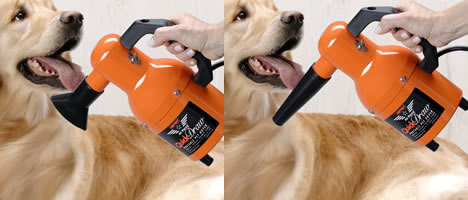 Warranty, Returns, And Additional Information