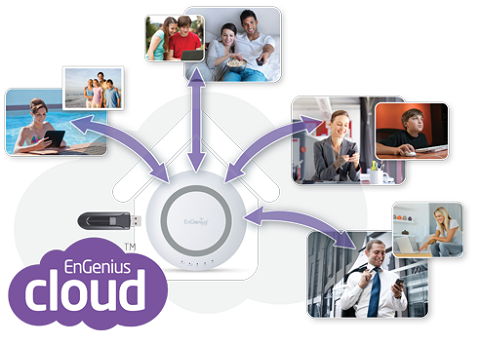 Connect a USB Hard Drive to Your EnGenius Cloud Router
With the free EnShare™ app for iPhone®, iPad®, Android™-based smartphones or tablets, or from any web browser, transfer video, music and other files to or from your router-attached USB drive whenever you have an Internet connection.
Parental Controls
EnShare also lets you remotely monitor usage or even disconnect computers, tablets, phones and other devices from your EnGenius Cloud Router.
- Download / upload movies, music, photos, and files
- Stream media content to a smart TV or other home entertainment devices
- Remotely monitor network status and set security and parental controls
- Access from a computer, iPhone, iPad, or Android-based device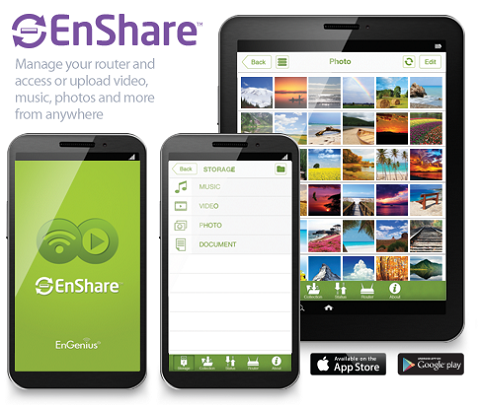 Take HD Video Streaming to the Next Level
The EnGenius ESR1200 is a draft IEEE 802.11ac Dual Band Cloud Router with a built-in Four-Port Gigabit switch and 5GHz wireless speeds (up to 867Mbps) that are nearly 3X faster than Wireless N. It also features media sharing and router management inside or outside the home with EnShare.
The EnGenius Cloud
- Access, stream, download or upload video, music and other files to and from an attached USB hard drive or monitor and manage the Cloud Router from an Apple iPhone, iPad or Android tablet or smartphone with the free EnShare app.
- Use EnShare to remotely monitor Cloud Router usage or disconnect devices connected to the Cloud Router whenever they're away from home via an Internet connection.
Wireless AC1200 Speed
- Utilizes 802.11ac standard speeds, up to 300Mbps on the 2.4GHz frequency band and up to 867Mbps on the 5GHz frequency band that approaches wired Gigabit speeds and is nearly 2X faster than Wireless N - ideal for media streaming, online gaming, and large file transfers in and around the home.

Gigabit Wired Speeds and EnShare™ USB Media Sharing
- Includes a Four-Port Gigabit Switch and Gigabit WAN port for 10X faster throughput than Fast Ethernet making large file transfers and HD video streaming incredibly fast.

Multiple SSIDs
- Up to eight separate and discrete SSIDs (four SSIDs per frequency band). A Guest Access login on each band can be set to enable friends or visitors to access the Internet while protecting other networked computers or hard drives in the home that may contain private information.

Prioritizes Applications and Maintains Quality of Experience
- Advanced Quality of Service (QoS) prioritizes bandwidth intensive applications like HD video and gaming or bandwidth sensitive applications like VoIP telephone calls.

Industry-Standard Security and Robust VPN Settings
- WPA and WPA2 wireless encryption, Stateful Packet Inspection (SPI) firewall, Denial of Service blocking and MAC and URL filtering to make your home network safer from intruders or from malicious software attacks from the Internet.
- Also includes robust VPN features for securely connecting to corporate offices for remote workers while still meeting the needs of other family members.
Features
- EnGenius Cloud remotely transfer media files or monitor and manage the Cloud Router
- Built-in Four-Port Gigabit Switch
- Up to 1200Mbps (300 + 867Mbps) wireless speed with both 2.4 and 5GHz frequency bands
- Gigabit WAN Port for faster uploads and downloads
- USB Port to attach a USB hard drive
- Multiple SSIDs (Four per frequency band) for Guest Access login options
- WPA / WPA2 encryption to help secure the wireless network
- QoS optimizes bandwidth performance for streaming media
- Robust VPN settings for more secure communication between the home and a corporate office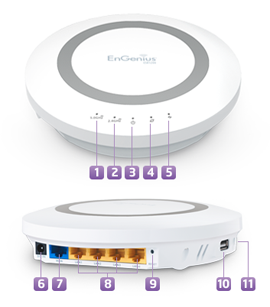 Physical Interface
5GHz LED
2.4GHz LED
Power LED
Internet LED
WPS LED
Power Connector
WAN Port
LAN Ports
Reset Button
USB Port
WPS Button