Philips PM388 Mini Cassette Voice Recorder - 1 EA
Simply Work Smarter with Philips Dictation Solutions
Mobility and flexibility are critical in today's fast-moving business environments. The Philips Pocket Memo dictation recorder gives you the freedom to work when and where you need to.?
Highlights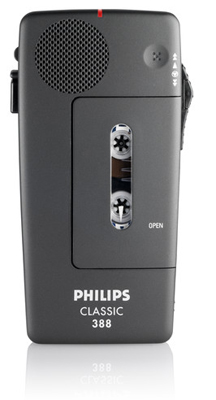 Superior Audio Quality
Automatic gain control for adjustment to optimum recording level
Enhance Your Productivity
End-of-letter index tone for easy file access
Professional editing via slide-switch operation
Turbo wind for fast access to any part of the tape
Visual indication with LED for showing record status and low battery
Designed for Professionals
Audible end-of-tape and low battery warning tones for safe recording
Voice-activation function for hands-free recording
Transport lock for avoiding unintentional operation
Internal recharge of batteries for environment friendly use
Features
Automatic Gain Control for Adjustment to Optimum Recording Level
The priority index tone indicates urgent documents. Your urgent jobs get transcribed first.
End-of-Letter Index Tone for Easy File Access
The warning tones for end-of-tape and low battery status ensure that no dictation is cut off. The end-of-letter index tone indicates the start of each document and number of recordings.
Professional Editing via Slide-Switch Operation
Easy and quick file editing via convenient slide-switch operation. It offers a fast response and is designed for single-handed operation.
Turbo Wind for Fast Access to Any Part of the Tape
The turbo wind function allows you to jump to any part of the tape within seconds and save you valuable time.
Visual Indication with LED for Showing Record Status and Low Battery
The status LED always shows if your battery is running low and the record status.
Audible End-of-Tape and Low Battery Warning Tones for Safe Recording
The warning tones for end-of-tape and low battery status ensure that no dictation is cut off.
Voice-Activation Function for Hands-Free Recording
Voice-activated recording is a convenience feature for hands-free recording. When enabled, recording will start automatically when you start speaking. Recording stops automatically after you stop speaking and restarts automatically when you start speaking again.
Transport Lock for Avoiding Unintentional Operation
With the transport lock activated, your dictation recorder is protected from unintentional operation.
Internal Recharge of Batteries for Environmentally Friendly Use
Help protect the environment and save your money by simply recharging the batteries of your device instead of buying new batteries (optional Philips rechargeable batteries LFH0153 required).