The AVIOR GHSP8114 is a 4-Port HDMI Audio/Video Splitter is used to take high definition audio and video from a single HDMI media source and direct it to 4 separate HD TVs, displays or projectors with support for 3D. Being HDCP compliant, the unit is able to support the highest quality HD video and multi-channel digital audio; enabling the splitting of HD content from DVR/Set-top boxes, Blu-Ray players, computers and other HD or non HD devices.
Distribute Full HD 1080p (24/60 Hz) or your 3D content with multi-channel digital audio and 12-bit Deep Color.
The GHSP8114 can cascade up to 3 levels supporting up to 64 HDMI signals. Cascading distance from source to device 6ft, device to device 50ft and device to display 65ft; makes a total of 121ft through cascade.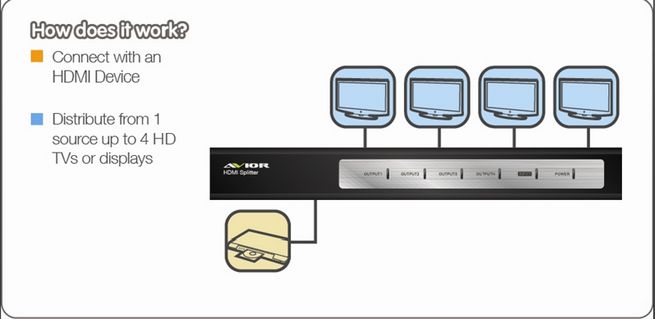 One-to-Four Splitter The 4-Port HDMI Audio/Video Splitter streams one HD media source up to four displays with zero signal loss.
High performance and compatibility The IOGEAR GHSP8114 supports video with high resolution of 480p, 720p, 1080i and 1080p, and it can automatically detect the highest common resolution of the connected displays. It works with DVR / Set-top boxes, Blu-ray / DVD players, video game consoles, media servers, computers, and many more.
HDCP support The 4-Port HDMI Audio/Video Splitter is HDCP compliant to unlock the ultra-high resolution and superb quality protected content.
Cascadable The IOGEAR GHSP8114 is cascadalble with 3 levels for up to 64 HDMI signals support. There will be HDCP limitation while cascading. If your media content is HDCP enabled, the splitters will only support up to the maximum HDCP keys that are available (127 keys). In other words, with HDCP enabled content, the splitters can support up to 127 displays. If your media content is not HDCP enabled, then the splitters can support the full three-level cascade (512 displays).
Warranty, Returns, And Additional Information