Tripp Lite Two-Port HDMI Splitter Overview
Spread your message far and wide - send an HDMI video signal up to 29 feet from its source and display it on two different monitors - or cascade up to six splitters and display it on additional monitors! Tripp Lite B118-002 2-Port HDMI Splitter delivers peak video performance from HDMI-enabled digital video components, making it ideal for display and digital signage applications in schools, churches, retail displays, trade show presentations, home theaters and more. The splitter can be placed up to 13 feet from a source and up to 16 feet from a connected monitor, giving you 29 feet of total cable distance. It supports video resolutions of up to 1080p and computer video resolutions of up to 1920 x 1200, ensuring a crystal-clear picture at every point of your installation. The B118-002 offers plug-and-play convenience, making setup simple. For peace of mind, it comes backed by a one-year warranty.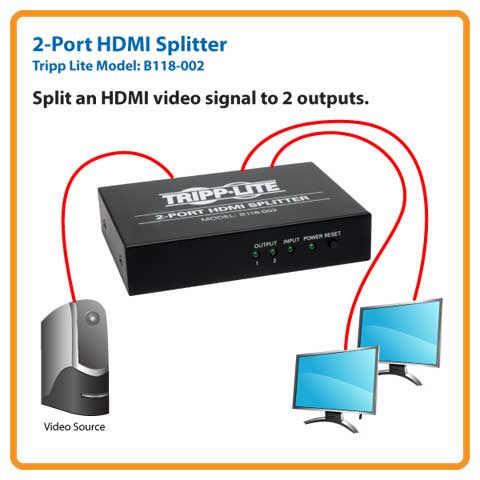 Feature Focus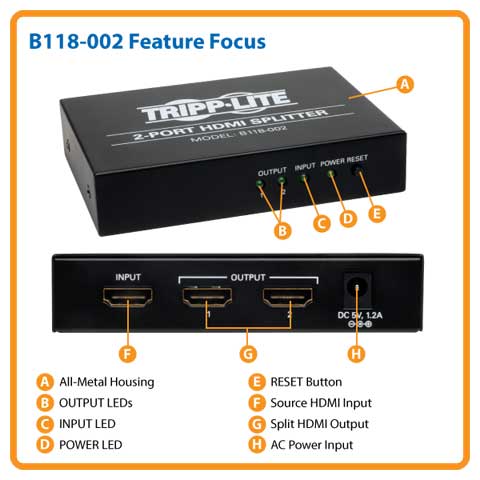 Key Features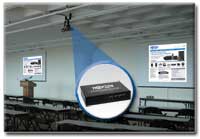 The Smart Solution for Display and Digital Signage Applications
The B118-002 splits a single HDMI signal into 2, making it the ideal solution for digital signage applications requiring the connection of multiple displays to a single source, ranging from schools and churches to retail, point-of-sale displays and trade show presentations. By cascading up to 6 splitters together, you can connect additional monitors to the same video source. The B118-002 allows for the video source to be in a secure, remote location for controlled access while still delivering the signal to devices in another area.
Greater Distance - Greater Flexibility
This 2-port splitter enables the extension of an HDMI signal beyond the regular distance limitations. It supports video resolutions of up to 1080p, computer video resolutions of up to 1920 x 1200 and allows connected monitors to be placed up to 29 feet from a source.
Convenient Plug-and-Play Setup
With no software or drivers to install, the B118-002's plug-and-play setup gets your application up and running faster. Simply connect the unit's external power supply, connect the unit to the video source and remote displays, and watch as the B118-002 provides crystal-clear resolution.
Durable, All-Metal Case for Long-Term Functionality
The B118-002 is built with an all-metal housing to ensure long life and durability. The metal housing stands up to the rigors of everyday use in indoor environments. It is also fully shielded for maximum EMI/RFI protection and superior signal quality.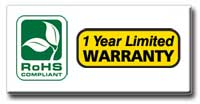 One-Year Warranty and Environmentally Responsible Design
The B118-002 is manufactured in compliance with strict RoHS specifications, reflecting Tripp Lite's commitment to environmental responsibility. For peace of mind, it comes backed by a one-year warranty.
Technical Specifications
| | |
| --- | --- |
| Type: | 2-Port HDMI Splitter |
| Maximum Resolution: | 1080p (Video), 1920 x 1200 (Computer Video) |
| Connector A: | 1 x HDMI Female |
| Connector B: | 2 x HDMI Female |
| Housing: | Metal |
| Warranty: | One-year |
| Regulatory Compliance: | Meets RoHS standards |
What's in the Box
B118-002 2-Port HDMI Splitter
External Power Supply (Input: 100 ~ 240V, 50/60Hz, 0.5A Output: 5V, 1.2A)
Owner's Manual