Hercules WAE* BTP02 Bluetooth Portable Speaker
Mobile Wireless Speaker. Music? Never Without My Smartphone!
Created for all those who have turned their iPhone® (or Smartphone) into their new music system.
No more wires, thanks to the speaker's built-in Bluetooth. Stream any music from your iPhone®. Stream also music from your other Bluetooth devices (Smartphone, Tablet or computer) to the speaker.
Unique design, both modern and ergonomic. A handle lets you easily carry the system from one room to another.
Choose your favorite WAE* color and discover the *Wireless Audio experience: The speaker comes in two "flavors" - Black or White.
Record-Breaking Battery Life: Enjoy up to 20 hours of non-stop music at medium volume*
The best in class Bluetooth technology insures both incredible sound quality and convenient range within your home.
Pure and clear stereo sound, up to 25W peak power.
Stereo Wide and Bass Boost effects.
A vent and two isolated chambers provide a generous amount of air, ensuring enhanced bass response.
One 3.5mm mini-jack line input for connecting an MP3 player or any other audio device.
Key Features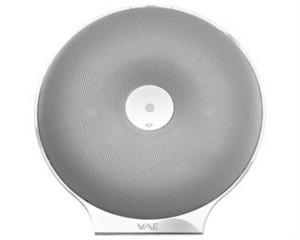 Music? Never Without My Smartphone!
Stream your music from all your Apple® devices featuring the wireless Bluetooth® technology (and your smartphone, tablet and computer).
Wireless
The BTP02 speaker uses the wireless Bluetooth® technology, offering a 50' (15-metre) range. You can take it with you everywhere inside your home - the music never stops.
Battery Life
Enjoy your music non-stop for 20 hours.* Fewer charges, more listening.
*20 hours' autonomy at 73dB (SPL @ 1m)
Stereo
An elegant 2.0 system that will flatter your eyes and ears. Its built-in equalizer feature offers exceptional bass sounds, combined with sharp and pure sound. With 25W, the speaker also boasts ample power.
Music Remote
More comprehensive than any remote control, the WAE* application enables you to manage your BTP02 easily. Listening to music becomes nothing but pure pleasure. The WAE* app allows users to control the speaker's volume and effects, to listen to the many web radios provided free with the application and to adjust the equalizer's settings to perfect their music's tone.
Technical Specifications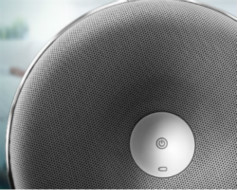 Installing the Audio System
Just turn on the Bluetooth® on your smartphone and connect with the speaker, and you're ready to enjoy your music.
Install the WAE app and control your speaker at the tip of your fingers. Turn the volume up or down on your speaker from your smartphone, enable audio effects and pre defined equalizer levels.
Enjoy a huge database of web radios and a funky player to listen to your favourites iTunes play list.
Thanks to the device selection icon you decide where the sound needs to go, either on your smartphone or to the WAE speaker.
Choose Your WAE
The speaker comes in two "flavors": Black or White.
Choose your favorite color and discover the Wireless Audio Experience.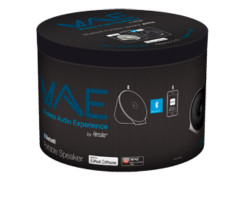 Cutting-Edge Design
The speaker's sound quality benefits from Hercules' extensive audio expertise. The challenge met by Hercules' R&D team was to create a speaker that could deliver powerful sound, while consuming as little electricity as possible, in order to optimize battery life.
Amplification was therefore the key point in developing this solution, which goes above and beyond what had been thought possible: the Hercules WAE portable speaker BTP02 delivers up to 25W peak power output, and consumes only 60mW at 73dB (C) SPL.
At this volume, the speaker can provide 20 hours of non-stop music playback.