PNY Quadro 410 VCQ410-PB Low Profile Workstation Video Card
Productivity Assurance at an Exceptional Value
The NVIDIA Quadro 410 is tested and certified to reliably accelerate all major design and CAD applications, keeping you productive regardless of how complex your workflow gets. It supports OpenGL 4.2, DirectX 11, Shader Model 5.0, CUDA, and drives displays ranging from CRTs and digital flat panels to projectors and HDTVs. It utilizes a rich set of graphics and display technologies – like FXAA and TSAA full scene anti-aliasing technologies, NVIDIA Mosaic technology and NVIDIA nView technology etc., – for stunning graphics performance, and excellent multi-display capabilities.
Additionally, the Quadro 410 consumes only 38W for the maximum efficiency. It has a low-profile footprint flexible enough to fit into any workstation.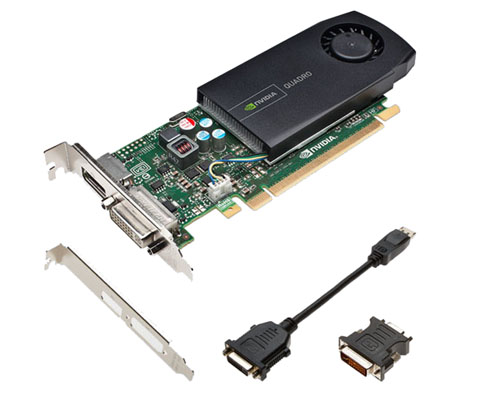 Features & Benefits
GPU Features
GPU Tessellation with Shader Model 5.0
Quadro Tessellation Engines automatically generate finely detailed geometry, for cinematic quality environments and scenes, without sacrificing performance.
16K Texture and Render Processing
NVIDIA Quadro 410 provides the ability to texture from and render to 16K x 16K surfaces. It's beneficial for applications that demand the highest resolution and quality image processing.
NVIDIA CUDA Parallel Processing Architecture
NVIDIA Quadro solutions leverage general purpose GPU computing using standard programming languages like C/C++ and Fortran, and emerging APIs such as OpenCL and Direct Compute. This broad adoption of CUDA is accelerating techniques like ray tracing, video and image processing, and computation fluid dynamics.
NVIDIA CUDA Parallel Processing Architecture
Advanced active shutter glasses deliver crystal-clear stereoscopic 3D visualization for the most immersive experience.
NVIDIA High-Precision High Dynamic Range (HDR) Technology
Sets new standards for image clarity and quality through floating-point capabilities in shading, filtering, texturing, and blending. Enables unprecedented rendered image quality for visual-effects processing.
FXAA and TSAA Anti-aliasing Technologies
The new FXAA and TSAA full scene anti-aliasing provide crisper images without impacting model interactivity.
The new FXAA and TSAA full scene anti-aliasing provide crisper images without impacting model interactivity.
Drives ultra-high-resolution panels, producing phenomenal image quality. Support two active connectors including, dual-link DVI with up to 3840 x 2160 at 60Hz on each panel, DisplayPort with up to 3840 x 2160 at 60Hz, or HDMI for integrated audio and video thru the GPU.
Advanced Display Features
30-Bit Color Fidelity
Infrared (3D Vision) or RF (3D Vision Pro) technology enables a range of immersive environments ranging from your desktop workstation to collaborative work spaces. 3D Vision and 3D Vision Pro sold separately.
DisplayPort 1.2 Support
Compact and secure DisplayPort 1.2 connectors support Multi-Stream Technology, Stream Cloning and ultra-high-resolution panels (up to 3480 x 2160 at 60Hz), enabling maximum range, resolution, refresh rate, and color depth designed to support the latest display technologies.
NVIDIA Mosaic Technology
NVIDIA Mosaic Technology enables transparent scaling of any application across up to eight displays, using multiple graphics solutions.
Software Support
NVIDIA Application Acceleration Engines Support
Supercharge application performance and capabilities with highly optimized software modules, including SceniX and OptiX for advanced creative and investigative possibilities.
NVIEW Advanced Desktop Software Support
The NVIEW Advanced Desktop Software delivers maximum flexibility for single large display or multi-display options, providing unprecedented end-user control of the desktop experience for increased productivity.
NVIDIA Enterprise Management Tools
Exhaustive Enterprise Management tools for maximizing your system uptime by enabling seamless wide scale deployment. Allow remote query and control of graphics and display settings for systems spread across your installations.