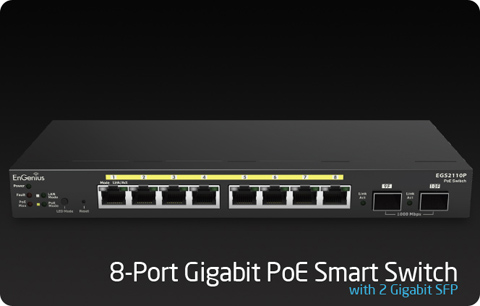 EGS2110P is an Eight-Port GIGABIT Smart Switch with Eight Power-over-Ethernet Ports and Two GIGABIT SFP

The EGS2110P enables office users to easily connect and supply power to Power over Ethernet (PoE) devices such as IP cameras, IP phones, and Wireless Access Points on a network. All of the ports on the EGS2110P support the IEEE 802.3af PoE protocol and can supply up to 15.4W for a total PoE budget of 61.6W.

The switch supports IEEE 802.1p Quality of Service (QoS), which automatically classifies and prioritizes compliant device traffic to ensure that time-sensitive data such as VoIP packets are forwarded without delay. In addition, the switch offers PoE Management on its PoE ports and also includes priority-based configuration.

GIGABIT Wired Speed
Utilizes Gigabit Ethernet standard speeds, up to 1,000Mbps - ideal for media streaming, and large file transfers throughout the network.
Two SFP Ports
Includes two SFP ports to support transceivers for fiber cabling for connectivity to offices, buildings or other parts of the network that exceed the distance capability of Ethernet.

IEEE 802.3af Support on Ports One Through Eight
Enables PoE devices like Access Points, Client Bridges, IP Cameras, VoIP telephones and other PoE devices to be powered directly from the switch over Ethernet cable. Features a total PoE budget of 61.6W.
PoE Management on All POE Ports
For monitoring and allocating more precise power levels to PoE devices.

Loopback Detection
For configuring the system to shut down the current port once the port is found in a loop in addition to sending a trap message.

IGMP Snooping
Monitors the Internet Group Management Protocol (IGMP) traffic between hosts and multicast routers. The switch uses what IGMP snooping learns to forward multicast traffic only to interfaces that are connected to interested receivers.

Bandwidth Control
Provides priority to identified network traffic including dedicated bandwidth, controlled jitter and latency that is required by real time applications while improving quality by reducing packet loss.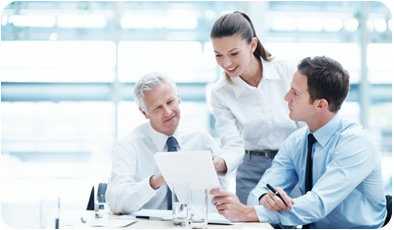 Features
Eight Gigabit Ethernet ports


Two SFP slots


IEEE 802.3af Support on Ports 1-8


61.6W PoE Budget


PoE Management on PoE Ports


Loopback Detection


IGMP Snooping


Bandwidth Control



Connect Computers, VoIP Phones, Access Points and IP Cameras throughout Your Office and Move Data at Gigabit Speeds
The EGS2110P is a Smart PoE Switch that offers eight Gigabit ports with IEEE 802.3af PoE Support on all its ports and two Gigabit SFP slots for fiber uplinks.

It provides power and connectivity for Wireless Access Points, IP Cameras, VOIP (Voice-over-IP) phone systems and other devices that are PoE capable; as well as providing high speed network connectivity to computers in a small office setting.