INSTEON 75790WH Wireless IP Camera
IP Camera Allows You to Watch Your Home or Business from Anywhere in World
Fantastic price for feature set
Super-easy installation in INSTEON app (INSTEON Hub required, sold separately)
Works with Smartphone/Mobile devices (iPhone/iPad, Android & Blackberry) & browsers
Excellent Wi-Fi range
Wide ranging remote pan/tilt functionality - 300
Description
Best value on the market. Wireless, pan/tilt, night-vision, motion sensing, email sending IP camera.
Super-easy installation and integration from within INSTEON apps. Do-it-yourself ready installation using other mobile apps and browser tools. Order multiple units to add surveillance to various locations throughout your home or office.
Whether you're sitting on a beach watching your home from your iPad, checking in on your warehouse from your laptop or saying goodnight to the kids from your cell phone, the INSTEON Wireless IP Camera has you covered!

We Live with (and Love) this Camera:
We use a bunch of these cameras in our warehouse and office areas at our headquarters (and in many employee homes). The pan and tilt works great and the picture is clear. The range is exceptional (we actually forgot to screw on the antenna in one of our locations and the product STILL worked). Night vision is great - if something moves in our warehouse after hours, we know about it! We use it with INSTEON apps, HouseLinc, tinyCam Monitor PRO and many other apps - and it works great.
What Goes Bump in the Night?
Whether you're worried about what animals have decided to occupy your yard in the evening or are concerned more about the two-legged variety trying to enter your home, the INSTEON Wireless Security IP Camera has you covered. The camera features 11 infrared LEDs that can provide 26 feet (8 meters) of visibility in absolute darkness. It transmits high quality video images at 30 frames per second on your local or wireless network by using MJPEG hardware compression technology. You can also receive digital images via email when motion has been detected at a resolution of 640 x 480 (300K Pixels).
User Interface
The camera features an easy to use graphical interface that is accessible from any standard browser anywhere in the world over the Internet. It has password protection as well as the ability for multiple users to view and control up to 9 cameras at one time. The camera is based on the TCP/IP standard and the control, management and maintenance of the camera is done simply by using your web browser to adjust the configurations.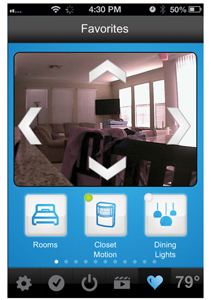 INSTEON Hub Compatibility
Why settle for just camera control when you can also control the lights, adjust temperature and more all from your smartphone? The INSTEON Hub makes it possible to view a live camera feed of your home, adjust the lights, set temperature and set motion and leak sensor alerts - making your very own monitoring system - all with no monthly fees. The INSTEON for Hub app provides setup video instructions and automatically configures your router for remote access and control.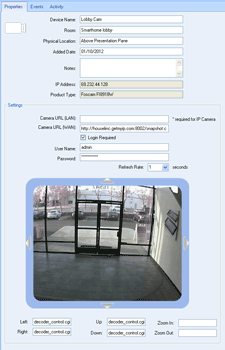 HouseLinc Compatibility
HouseLinc home control software also makes configuring the INSTEON Wireless Security IP Camera as easy as a few mouse clicks. With HouseLinc, you can include IP camera images as part of a triggered or conditional event.
Here are just a few of the exciting ways pairing the INSTEON Wireless Security IP Camera with SmartLinc or HouseLinc can give you added convenience and peace of mind:
At work or planning on being away from home? Set up an event that includes an INSTEON Motion Sensor and INSTEON Wireless Security IP Camera by your front door. When motion is detected, the sensor can turn on a lamp and the camera will automatically send an email with a photo so you know who is at the door.
Do all of your employees show up for work on time? Keep track of your employees' punctuality with a timed event that has INSTEON Wireless Security IP Camera email you a photo of your workplace at 9 a.m. every day.
Who opened the door or window? Link a Open/Close Door Window Sensor to a INSTEON Wireless Security IP Camera to email a photo every time a door, window or gate is opened.
Who is coming and going in your garage? Use the I/O Linc - INSTEON Garage Door Control & Status Kit with the INSTEON Wireless Security IP Camera to not only be alerted that your garage door has been opened or closed, but to also trigger an email with a photo of your garage interior.
9dbi Wi-Fi Antenna
While the camera does include a Wi-Fi Antenna (3dbi) that will deliver an exceptional, clear video signal, this 9dbi Wi-Fi Antenna (sold separately) antenna will allow you to receive that same great video signal from greater distances. Optionally, you can use this antenna to increase the signal reliability of your wireless camera for added piece of mind. The base connector of the antenna simply screws on to the camera antenna receptacle, and will pivot and rotate into your desired position to receive the optimal signal from the camera.