The most cost-effective way to extend video and audio ever! The Connectpro EOC-VA1 comes with a transmitter and a receiver. Connect them with a single Twisted Pair, Cat5-type cable, and enjoy video/audio up to 300m (1,000 feet) away from the source. The transmitter also supports local video/audio pass-through, for connecting Local display, or cascading with second transmitter.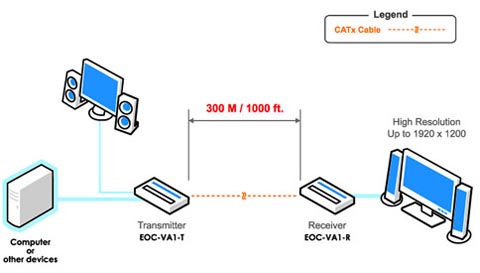 Use existing Ethernet infrastructure to extend video and audio Use the Connectpro EOC-VA1 to extend VGA video and analog audio by up to 300m (1,000 feet) via a Cat 5 cable. Cat 5 extension enables you to make use of existing Ethernet infrastructure wiring. It is simple and convenient.
High quality signal extension The Connectpro EOC-VA1 provides full support for DDC/EDID. It delivers video at resolutions up to 1920 x 1200.
Easy to control parameters for optimized video quality The Connectpro EOC-VA1 enables fine, independent sharpness and brightness control. It also features built-in Easy Skew calibration control on unit, or via IR remote control. (Skewing is the visible separation of colors that can be noticeable on extended VGA displays.)
Easy to use and install All-hardware solution, the Connectpro EOC-VA1 Operating System Independent and Network Independent; no drivers or software required. With its all-metal housing, it can be easily mounted on the wall, floor, or table.
Warranty, Returns, And Additional Information