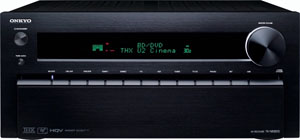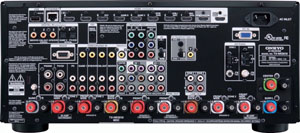 Enjoy Thrilling Nine-Channel Entertainment in Your Room
With first class audio technologies and engineering, superlative video technologies and abundant, easy connectivity, the Onkyo 9.2-channel receiver TX-NR3010 is the ultimate hub for house-wide entertainment. It comes with a massive main transformer, additional transformers for audio and video processing, and separated pre-amp and power amp blocks. This receiver features Audyssey MultEQ XT32 room correction and three incredible sound expansion systems - DTS Neo:X, Audyssey DSX, and Dolby Pro Logic IIz - while a combination of Qdeo, HQV, and ISF technology upscales and calibrates video sources to 4K resolution. Audio signals are jitter-cleaned and converted to analog by 192kHz / 24-bit DACs and VLSC circuits before passing through the Three-Stage Inverted Darlington Circuitry. Easily set up and controlled using the HDMI-enabled interface, this THX Ultra 2 Plus-certified receiver is waiting to reignite your passion for music and cinema. With a total of 11 HDMI ports (including MHL for smart phone) and 11.4-channel pre-outs, the home theater setup possibilities are limited only by your imagination.
First-Class Audio Technologies and Engineering
The Signature Onkyo Sound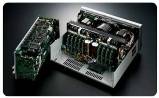 The Onkyo TX-NR3010 was designed with the power amplifier block and the pre-amplifier coexisting but also perfectly isolated. Furthermore, the circuit boards have been affixed to the chassis so vibrations from the base will be reduced significantly.
Onkyo's unique Wide Range Amplifier Technology (WRAT) is the key to Onkyo's signature sound. This innovative amplifier design is comprised of three key elements: (1) A low negative feedback design for cleaner audio across the frequency range; (2) Closed groundloop circuits to cancel individual circuit noise and keep the ground potential free of distortion; and (3) A high instantaneous–current capability to handle speaker reflex energy and impedance fluctuations.
On the processing side, Phase Locked Loop (PLL) jitter–cleaning technology removes digital pulse noise, while VLSC circuits help to create a pristine analog waveform, ready for amplification by Onkyo's efficient Three-Stage Inverted Darlington Circuitry. This abundance of clean power, advanced processing technology, and generous build specification are what will drive your home entertainment to previously unimagined heights.
Hear Precisely What The Director Intended: THX Ultra 2 Plus Certified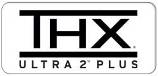 The Onkyo TX-NR3010 provides transcendent stereo playback for music and is THX Ultra 2 Plus certified. It is unrivaled in its category. THX Ultra 2 Plus, the ultimate benchmark for home audio performance, ensures that what you hear through the TX-NR3010 is precisely what was recorded. This certification is specified for rooms in which the screen-to-seat viewing distance is more than 12ft and the room volume is 3000cu. ft. or greater. This standard also includes a volume control technology that ensures low-level information is preserved when volume is down, so you experience a dynamic presence in every scene without having to control the volume. To achieve this THX certification, the TX-NR3010 had to meet the most demanding standards for home cinema audio quality and performance, and must play at reference volume levels.
Access Limitless Music Possibilities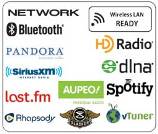 The Onkyo TX-NR3010 can access your home network via an Ethernet cable or optional UWF-1 wireless adapter, and makes streaming online audio easy. Once connected, you can also play music stored on a PC or NAS through your home theater system, with MP3, AAC, Apple Lossless, FLAC, and WMA Lossless formats and HD Radio supported. The receiver offers instant access to internet radio channels from Pandora, Slacker, SIRIUS XM Internet Radio, Last.fm, and vTuner, plus cloud-based music streaming from Rhapsody, Spotify, and AUPEO!*. Or, plug in Onkyo's optional UBT-1 Bluetooth adapter to stream high quality audio from your PC, smart phone, or tablet. (*Availability of services depends on region. Some services may require a firmware update. Availability of third-party services advertised here is accurate at the time of printing, but may be subject to change without notice.)
Three High Performance Sound Expansion Systems: Audyssey DSX, Dolby Pro Logic IIz, and DTS Neo:X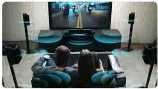 When additional High or Wide channels are added, their directional and ambient effects are fully enveloping. These three expansion systems offer you freedom to choose your preferred speaker setup. Audyssey DSX expands 5.1 sources to include Width or Height channels. The Dolby system adds Height channels and stereo source expansion. The TX-NR3010 is the world's first receiver to take advantage of DTS Neo:X 11 channel upmixing processing thanks to 11.1 channel pre-outs.
Hear the Difference with Audyssey MultEQ XT32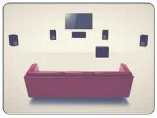 Audyssey's top-of-the-line room correction suite equalizes the sound to suit the unique acoustics of your listening space. High-resolution filters are applied to all channels - including subwoofers - based on information collected from more than 10,000 individual control points across eight measurement positions.
Superlative Video Technologies
Dual Core Video Engine: HQV Vida and Qdeo by Marvell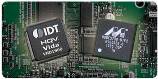 Featuring Onkyo's Dual Core Video Engine, hailed as the best video processing system currently available, the TX-NR3010 delivers optimum video performance. This system pairs the mighty HQV Vida VHD1900 module with Marvell's Qdeo technology for incredibly smooth and accurate images and seamless upscaling to 4K on your HDTV.
The Vida VHD1900 upscales analog content to 1080p, and enhances native high-def sources. Auto HQV enhances the image, while HQV StreamClean cleans up video from lower-quality online sources. Marvell Qdeo Technology upscales 1080p sources to 4K (4096 x 2160). Played back on a compatible 4K display, your high-definition content looks more impressively cinematic than ever.
ISF Video Calibration: Amazing Picture Quality, Assured - Imaging Science Foundation (ISF) video calibration further enhances smooth and vivid picture quality. Each video input source is independently calibrated to achieve the best possible performance on your connected HDTV.
Abundant, Easy Connectivity
Easy, Live Source Selection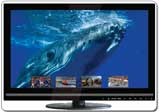 This network receiver incorporates InstaPrevue visual port management technology, making input source selection much easier. InstaPrevue provides a live video thumbnail of the available content on your devices connected via HDMI.
Free Apps: Streaming and Seamless Control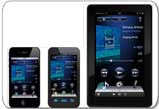 Stream audio stored in your iPod touch, iPhone, Android or Kindle Fire device wirelessly using the application's interactive graphical display. The apps are an intuitive way to control input sources and adjust settings, multizone functions and playback. The remote apps are available as free downloads at their respective sites (Apple App Store; Google Play and Amazon App Store for Android).
Save Power With Hybrid Standby

Hybrid Standby provides "HDMI through" functionality while the receiver sleeps, so you don't have to fully power up to watch a Blu-ray or play a game using just your TV's sound. The receiver also maintains a local network connection when on Hybrid Standby mode, so you can switch the unit on at any time using the Onkyo remote apps for your iPod touch, iPhone, Android, and Kindle Fire.
Watch Your Smartphone Content on Your HDTV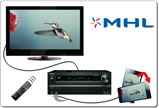 The front-panel MHL/HDMI port is designed for the connection of mobile phones and other portable electronic devices. MHL allows you to display full 1080p video and still images on your HDTV with up to 7.1 channels of surround sound. Use the receiver's remote to control playback from your phone as it receives a handy recharge.
Audio and Video via Zone 2 HDMI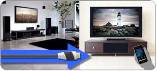 Connect an additional display using the receiver's Zone 2 HDMI output. Play the same or different hi-def content on that second TV in another room without using another Blu-ray player or set-top box. So the kitchen party can watch the game while the living room party watches YouTube. This receiver also powers audio in two other zones by assigning Front Wide or Front High channel outputs. Playback of audio and video is easily controlled with the main system remote or Onkyo remote control app.
Direct Digital Connection: The Cleanest Your iPod Can Sound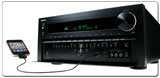 The front–panel USB port lets you play MP3 and AAC stored in an iPod/iPhone, and MP3, WMA, AAC, and FLAC audio files stored on a flash-memory device, and you can use the system's own remote for track selection and playback. Your music will sound much cleaner and clearer, as the audio signal is transported in digital rather than analog form through the direct digital connection.
Control Apple TV Right Out of Box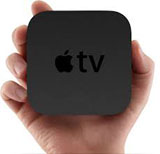 Have an Apple TV? The Onkyo remote is preset to control Apple TV. Use it with your Onkyo network receiver. It's all integrated, and it all works together beautifully