Star Wars™ First Edition Boba Fett™ Street by 50 On-Ear Headphones
From a Galaxy Far, Far Away...
The Street by 50 On-Ear Wired headphones are sleek, ultra-durable, and the most comfortable headphones we've ever made. The professionally tuned 40mm drivers deliver amazing clarity and richness without distortion – ideal for active lifestyles without compromise.
40MM Drivers
Professionally tuned 40mm drivers deliver genuine studio mastered sound

Oval-Fit
Patented Oval-Fit leather memory-foam cushions let you enjoy your music comfortably all day

Easy-Fold Hinges
Ultra-durable and easy-folding for traveling across town or around the world

Quiescent PNC
Quiescent passive noise cancellation seals off the outside world so you can focus on your entertainment
About Star Wars:
The May 25, 1977 theatrical debut of Star Wars was destined to change the face of cinema forever. An instant classic and an unparalleled box office success, the rousing "space opera" was equal parts fairy tale, western, 1930s serial and special effects extravaganza, with roots in mythologies from cultures around the world. From the mind of visionary writer & director George Lucas, the epic space fantasy grew into an ever-expanding universe through five subsequent films, television, publishing, video games and much more.
Star Wars is an ever deepening, timeless, mythological tale of good versus evil, set in a galaxy far, far away. Filled with noble Jedi Knights, fearsome creatures, and cruel villains, the epic space fantasy introduced "the Force" into the global vocabulary, along with characters such as evil Darth Vader, wise old Yoda, idealistic Luke Skywalker, and lovable Chewbacca. The epic Star Wars saga continues to grow and expand, captivating new generations with its exotic worlds, iconic themes and unforgettable stories.
A new era in the rich history of Star Wars is about to begin with the announcement of a new trilogy of Star Wars movies, starting in 2015, and the announcement of a series of Star Wars spin-off movies, over the coming years.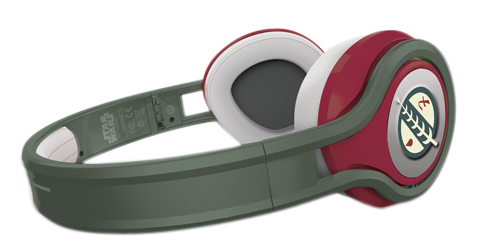 Emulating Fett's subdued color palette found in his armor, the Boba Fett headphones are a deep forest green complete with rust-red ear caps and ivory leather ear cushions. Each pair sports the bounty hunter's chest symbol and Mandalorian insignia.
You'll never track down a better sounding headphone in this galaxy. The Boba Fett™ headphone has a matte green headband, glossy rust-colored ear caps, and ivory leather memory-foam cushions. We couldn't make it from Beskar – but it features a raised Mandalorian Insignia to honor a forgotten way of life.
What's in the Box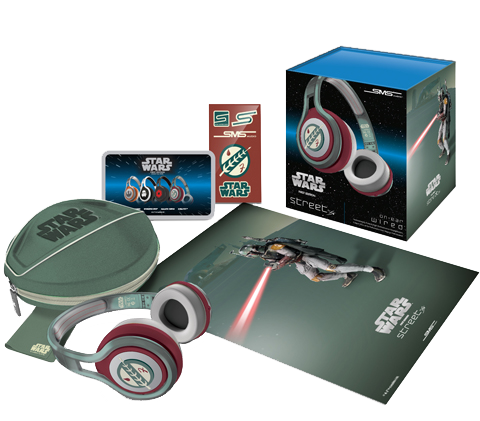 Star Wars™ Embossed Carry Case
Star Wars™ Branded Removable Cable with 3-click mic
Star Wars™ Branded Soft Touch Cleaning Cloth
First edition Star Wars™ poster (Sized 12" x 18")
One Sheet of First edition Star Wars™ Stickers
Star Wars™ Branded Owner's Manual
Certificate of Authenticity