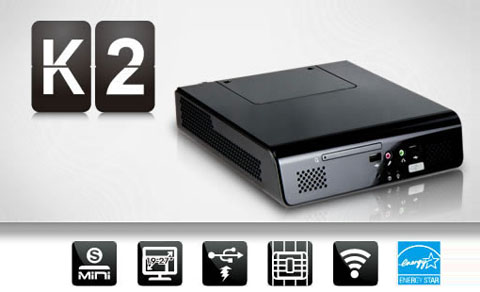 In Win K2 Basic Thin Mini-ITX Black Case with 120W Power Adapter, Heat Sink
The K2 brings the power and features of the K1 to an even smaller size unit. Designed to provide the latest in computing ability, the K2 brings advanced features and all-in-one ease of use to customers in a way that maximizes their investments in IT spending. Designed to provide a strong starting point for a wide variety of different usages, the K2, like the K1, stresses flexibility and features. The K2 supports a wide range of computing configurations with support for CPUs up to Intel's Core i7-3770S and Intel's vPro technology solutions.
The K2 supports a wide range of different monitor options starting with no monitor. The K2 is available without a monitor arm which supports use as a standard desktop or as a system placed inside a special mounting configuration. With a wide range of different applications possible with the K2, it is not possible to just have one or two monitor configurations. So using In Win's enhanced vision for all-in-one computers, the K2 allows any size or technology of monitor from 10in. to 24in. Any monitor, touch or non-touch, with a 75mm or 100mm VESA, can be mounted on the K2 monitor arms.
Introduced on the K2 is In Win's single wire feature which allows select third party monitors to be powered by the K2 and have monitor turned on and off in sync with the system using the system power button.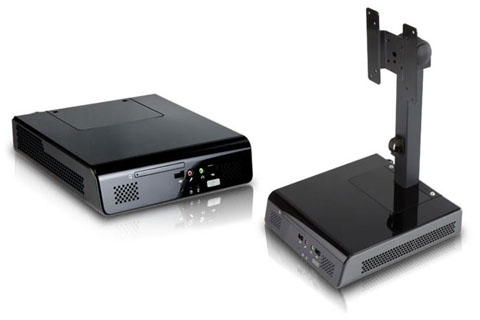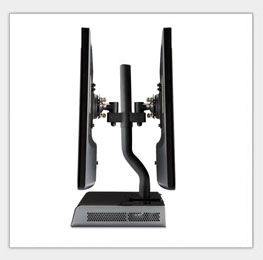 Supports a Wide Range of Monitor Sizes, Touch or Non-Touch, and Different Price Points.
Allows use of current monitors or continuation of current monitor supplier
Allows monitors to be serviced without changing the complete system
Internal USB Expansion Port Allows a Wide Range of Expansion Using Low Cost Devices.
Supports internal installation of wireless adapters. This allows for hidden wireless dongles for keyboards, Zig Bee®, low cost Wi-Fi adapters, etc.
Supports low cost boot devices using USB memory devices for thin client applications
Supports hidden installation of USB based software locks for use in public areas.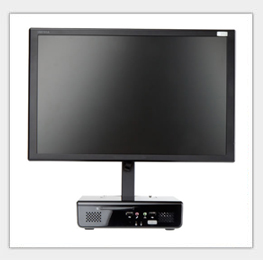 Internal or External Wi-Fi Supports Single or Dual Antenna (MIMO) Configuration. External Wi-Fi Supports Higher Gain or Remote Antennas for Improved Wi-Fi Performance in Difficult Areas.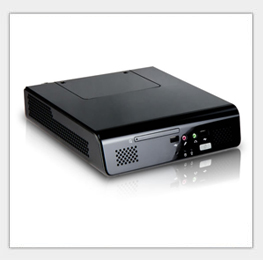 Internal Contact or Contactless SMART Card Reader Supports a Wide Variety of Different Applications Including Two Factor Authentications. Reader is NFC Compatible.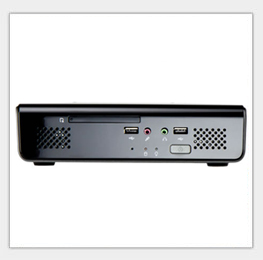 Available in IACP Version with Product Safety Listing, EMC Compliance, Plus ENERGY STAR®
Designed to support EPEAT and other ECO-label requirements
Product Applications
All-in-One System for Home or Office: The K2 is an Enhancement Over the Traditional AIO Systems.
Very compact desktop space requirements with integrated speakers, wireless networking and display. Easy to setup and just start using.
Internal or external MIMO Wi-Fi antennas provide for high performance wireless connections. Bluetooth wireless connection supports wireless keyboard/mouse or peripherals.
Supports reuse of existing monitor or monitor upgrade over the life of the system. Display options can vary from small low cost units to high resolution, multi-touch units.
Easy servicing model allows for separate servicing of the display from the system. Use of standard components allows for easy local servicing or upgrading.
Monitor power switch provides a single wire, single power control experience.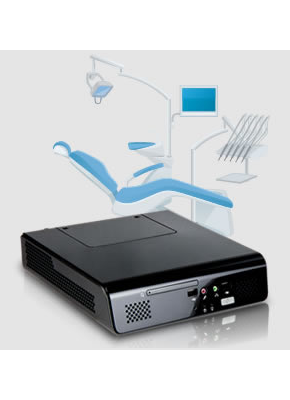 Medical Station: The K2 was Designed to be Used as a Workstation in a Medical IT Environment.
Small desktop space requirements.
Internal SMART Card reader supports access control systems for privacy compliance and system security. Contactless operation supports quick and easy usage
Support for various size displays with or without touch. Allows the selection of the right touch technology for the application or no touch for cost savings. As well the display/touch subsystem can be service independently from the system.
Strong physical security including support for pad locks or Kensington locks. Internal SMART Card reader prevents theft or loss of external readers.
Internal USB Wireless adapters supports wireless medical device monitoring using Zig Bee® or other proprietary protocols.
POS Terminal: The K2 is a Very Small yet Powerful Self-Service POS Terminal or Product Kiosk.
Internal NFC reader supports mobile phones for coupons or product information transfer
Internal USB port supports booting from USB memory device to support low cost configurations
High performance Wi-Fi antenna options supports high performance wireless connectivity
Support display options range including small POS optimized units