As new members of the award-winning Prodigy line, the BitFenix Prodigy Green and Prodigy Blue compact mini-ITX chassis were revamped with two exciting new colors and a window side panel. These new models also come with all the awesome features and styling of the original Prodigy such as beautifully compact form factor, unmatched flexibility, and BitFenix FyberFlex Composite handles.
Highlights
Show Off from Inside Out
Wow the crowd at the next LAN party with the BitFenix Prodigy Green and Prodigy Blue. With standard window side panels, people at the LAN party can have a view of your unique mini-rigs. The two luscious color options – Vivid Green and Cobalt Blue – will definitely put your chassis in the spotlight.
Beautiful and Compact
The compact mini-ITX body with subtle curves and clean lines is suspended by two elegantly crafted handles that give Prodigy a solid yet modern look that makes it a perfect addition to any environment.
Flexibly Designed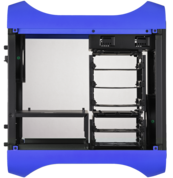 Prodigy is flexibly designed. Install long graphics cards up to 320mm in length by removing the top HDD cage. Bolt a 240mm water cooling radiator in the top, or if the build demands it, remove the entire HDD cage and put the 240mm radiator in the front, while still being able to install up to five 2.5in. drives. With multiple installation options, Prodigy is a small case that truly does it all.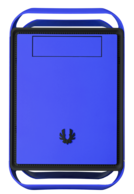 FyberFlex Composite Technology
Both the top and bottom handles of Prodigy are made from flexible and incredibly strong BitFenix FyberFlex Composite. Fastened on both the top and bottom of the chassis, these handles are a convenient way to carry Prodigy, while providing added shock absorption during transport.
Multiple Storage Options
Prodigy provides loads of storage options with room for up to five 3.5in. HDDs or nine 2.5in. SSDs. Set it up as a high-octane portable gaming rig, an attractive home server, or a full on NAS. With Prodigy, the possibilities are nearly limitless.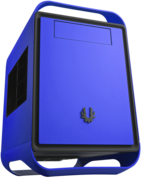 Born for DIYers
Prodigy is born for DIYers with rich DIY-friendly features. The unique motherboard tray makes it easy to fit tall CPU coolers, and filtered fan intakes keep the interior and system looking superb. The tool-free drive locking mechanisms make installing HDDs an incredibly simple affair, while cable management features keep your internals neat and tidy.
High-Speed USB 3.0 Connectivity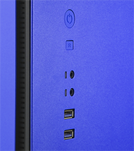 Equipped with two SuperSpeed USB 3.0 ports, Prodigy allows you to transfer files ten times faster than with USB 2.0.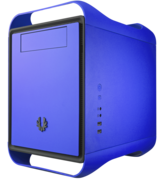 BitFenix Quality
FyberFlex handles are coated with none other than BitFenix SofTouch surface treatment, while the luxuriously coated interior and rolled-edge cable pass-throughs exude a premium feel.
What's in the Box: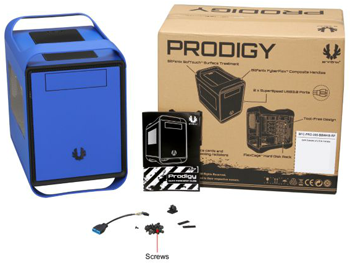 Prodigy Blue Case
Prodigy Quick Installation Guide
Accessories:
ODD Bay Screw Brackets: 2
Cable Clip: 1
Screws:
Thumbscrews M3: 4 (For ODD)
Standard Screw 6-32 Hex: 4 (For PSU)
Standard Screw 6-32* 6mm Flat: 7 (For MB & ODD Bay Screw Brackets)
Standard Screw 6-32* 10mm Round: 5 (For securing HDD trays)
Standard Screw M3* 5mm Round: 12 (For 2.5" SSD & ODD)
*Contents and specifications subject to change without notice.