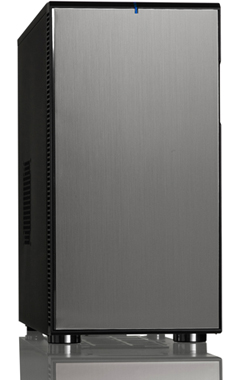 The Fractal Design Define R4 is the latest in the Define Series of computer cases offering minimalistic and stunning Scandinavian design fused with maximum sound reduction, configurability and functionality.
The Define R4 side and front door panels are fitted with dense, sound-absorbing material, making it a benchmark for noise reduction. Moreover, the Define R4 accommodates up to eight HDDs, all modern graphics card sizes, and multiple ventilation options - including two standard Silent Series R2 hydraulic bearing fans - to keep internal components at optimal temperatures.
For ultimate functionality, the Define R4 features a front interface with USB 3.0 and an integrated three-speed fan controller behind the front panel door. This case is available in Black Pearl, Titanium Grey and Arctic White.
Optimal Noise Reduction
The case uses high density noise-reducing material bitumen on the front and side panel for amazing noise absorption.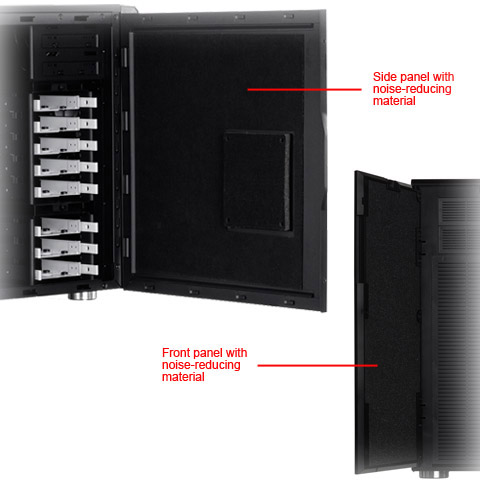 ModuVent Design
Exclusive ModuVent design allows user to choose between optimal silence and maximum airflow. The Define R4 is equipped with ModuVent plates (two in the top and one in the side). If cooling becomes more of a priority than noise reduction, the ModuVent panels can be removed to expose additional air vents for optional fans.
Spacious Interior for Your Components
The Define R4 offers ample space for your high-end components. It is compatible with ATX, Micro ATX or Mini ITX motherboards. Two 5.25in. bays, eight 3.5in. HDD trays (all compatible with SSDs) and eight expansion slots offer amazing expandability. Two SSDs can also be mounted on the back of the motherboard plate. So a total of 10 SSD positions are available. This case also supports CPU coolers up to 170mm tall (when no fan is installed in the side panel), and can accommodate ATX PSUs up to 170mm deep when using the bottom fan location (when not using this fan location longer PSUs up to 270mm deep can be used).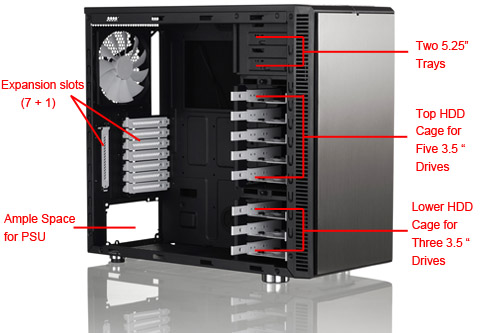 Rotatable and Removable HDD Cages
The top HDD cage (five trays total) can be rotated 90° or be removed for additional airflow to accommodate long graphic cards up to 430mm in length*. The lower HDD cage (three trays total) can also be moved to an alternative position or be removed. (*With the top HDD cage installed, this case supports graphics cards 295mm in length.)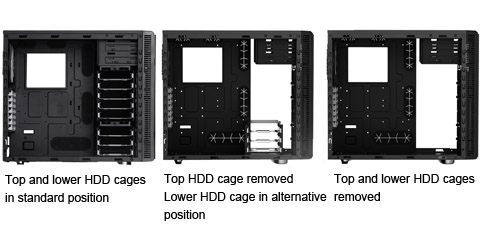 Cable Management
Wider case body offers up to 26mm of space behind the motherboard tray for amazing cable routing. Complete with holes on the motherboard tray, you can channel and route cables for a neat inner look and unobstructed airflow. The thick rubber grommets on all holes ensure maximum installation safety.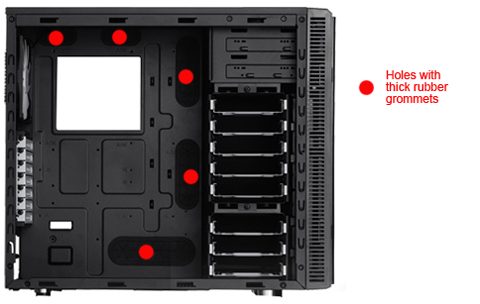 Cooling and Ventilation
The Define R4 provides seven fan positions to keep your system well ventilated. Two Silent Series R2 fans are preinstalled and feature hydraulic bearings for a longer life expectancy. New tool-less front fan holder makes switching front fans a breeze. The front and bottom fan positions offers filters to prevent dust buildup. The three-speed fan controller is strategically integrated in the front panel and supports up to three fans.
Seven fan positions are as follows
1 - Front hydraulic bearing 140mm Silent Series R2 fan, 1000RPM speed (included)
1 - Front 120mm /140mm fan
1 - Rear 120mm / 140mm fan (included is a hydraulic bearing 140mm Silent Series R2 fan, 1000RPM speed)
2 - Top 120mm / 140mm fans - positions also support some models of 240 radiators, depending on configuration
1 - Bottom 120mm / 140mm fan
1 - Side 140mm fan
1 - Integrated fan controller for up to three fans (included)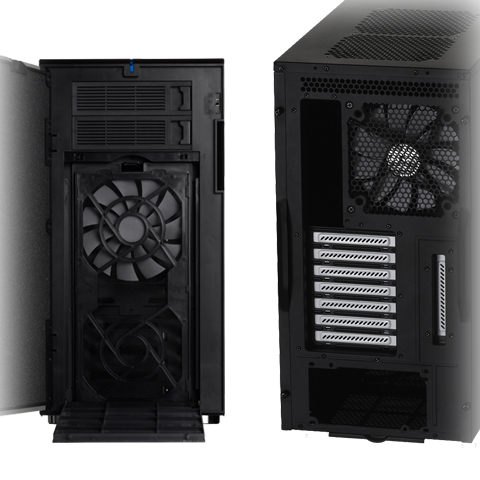 Front Interface
Two USB 3.0, two USB 2.0
Audio I/O
Power button with LED (blue)
Reset button
Fan controller (behind door)
Retail Package Contents
Define R4 computer case
User manual
Accessory box