Connect a DVI display for an entry-level extended desktop multi-monitor USB solution. The USB2DVIE2 USB DVI Multi Monitor External Video Adapter turns an available USB 2.0 port into an external video card DVI port - providing high-quality, dual-display or multi-monitor capability that can be used in a variety of laptop or desktop applications to increase your productivity.The device also offers the option of running up to five additional displays simultaneously (using five USB2DVIE2 Multi Monitor External Video Cards). Each connected adapter can be used to further extend the desktop, or mirror the image shown on the existing display - all without having to open the computer case to install an additional video card. Backed by a StarTech.com two-year warranty and free lifetime technical support.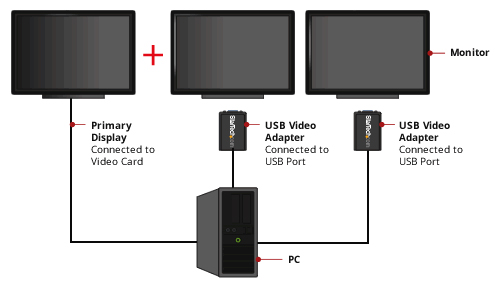 Multiple Adapters Support Compact, USB powered adapter provides the easiest way add a secondary or additional display to your PC. The ability to use multiple adapters (up to five) provides a scalable display configuration for future expansion.
Ease of Use Completely external device offers a simple upgrade solution, saving the cost and hassle of upgrading the internal video card on your system.