Embrace the new power within the Intel 4th Gen Core processor. The GIGABYTE Z87X-UD3H Force mobo is based on the latest Intel Z87 chipset. It's a great system foundation to take full advantage of the "Haswell" power and features in an LGA 1150 package. The newly introduced GIGABYTE Ultra Durable 5 PLUS ensures best-in-class cooling, durability and lifespan. With high-current-capable digital power delivery, performance-enhancing caching technologies, exclusive high-end audio features, advanced networking and device charging, and gold-plated hardware connectors, the GIGABYTE Z87X-UD3H motherboard is in a class of its own.
GIGABYTE Ultra Durable 5 Plus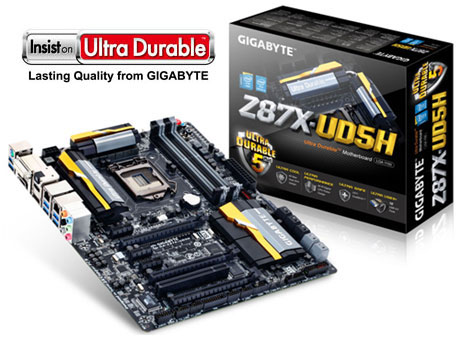 GIGABYTE Ultra Durable 5 Plus debuts on GIGABYTE 8 Series motherboards. Its range of features and component choices provide record-breaking performance, cool operation and extended motherboard lifespan.
Ultra Cool - All New Heat Sink Design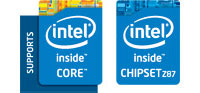 GIGABYTE motherboards feature new heatsink designs that offer uncompromisingly efficient cooling on key areas, including the PWM area and chipset (PCH). GIGABYTE 8 Series motherboards offer both passive, active and water cooling support of the crucial PWM area, so even the most aggressive and extreme configurations will be kept well within optimal thermal parameters.
Ultra Performance - All IR Digital CPU Power Design
GIGABYTE Ultra Durable 5 Plus motherboards use industry-leading PWM controllers and PowIRstage ICs from International Recifier. These components are 100% digital, offering incredible precision in delivering power to your 4th Generation Intel processor. Designed from the ground up to complement each other, these industry-leading PWM controllers and PowIRstage ICs are optimized for cool and efficient operation, allowing users to get the absolute maximum performance from their next PC build.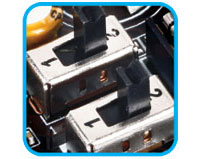 Ultra Safe - GIGABYTE UEFI DualBIOS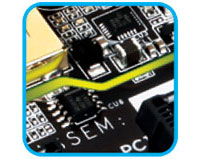 GIGABYTE motherboards feature GIGABYTE DualBIOS, an exclusive technology that protects one of your PC's most crucial components, the BIOS. GIGABYTE DualBIOS means that your motherboard has both a 'Main BIOS' and a 'Backup BIOS', making users protected from BIOS failure due to virus attack, hardware malfunction, improper OC settings, or power failure during the update process.
Ultra USB3+ - Ten USB 3.0 Ports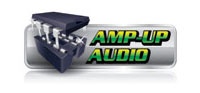 GIGABYTE Ultra Durable 5 Plus motherboards offer more high-speed connectivity than ever before, packing up to 10 USB 3.0 ports per board. Each of the ten USB 3.0 ports is provided with a dedicated fuse, ensuring that an unexpected malfunction on one port will affect only that port, isolating potential damage and protecting other connected devices.
Durable Black Solid Caps
GIGABYTE 8 Series motherboards integrate the best-quality solid state capacitors that are rated to perform at maximum efficiency for extended periods, even in extreme performance configurations. This provides peace of mind for end users who want to push their system hard, yet demand absolute reliability and stability. With ultra-low ESR no matter how high the CPU loading, these capacitors come in customized jet black exclusively on GIGABYTE 8 series motherboards. ("Rated for an unprecedented 10,000 hours of intensive operation at an incredible 105°C" &ndash Nippon Chemi-Con)