The BIOSTAR Hi-Fi B85N 3D mini ITX motherboard combines the finest components and the advanced technologies with Intel B85 chipset, offering a great platform for you to enjoy the power and power-efficiency of 4th generation Intel Core processor in LGA 1150 package. BIOSTAR Hi-Fi 3D technology brings you audiophile-class sound, right from your PC. An mSATA/Mini PCIe combo connector allows easy upgrade for SSD or other modules. An array of protection methods, like moisture-proof PCB, all solid durable capacitors and ESD protection, ensures unbeatable durability and reliability, while a host of additional features enable superb experience on your next PC build.
Hi-Fi 3D
Hi-Fi 3D Technology enables high definition multi-dimensional sound where it matters the most with height, width and depth in front of the listener. It's based on the physics of reproduced sound and the basic human perception of sound. The high resolution sound reproduction stands above existing sound enhancements or virtualization technologies.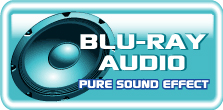 Blu-ray Audio
Upgrading your Audio performance in the easiest way is choosing BIOSTAR ultimate Motherboard. It does support Blu-ray audio DRM (compatible driver/software) and provide the higher audio output of 24 bit/ 192KHz than the 16 bit/ 48KHz from the normal MB. You will experience the high quality sound effect with pure Blu-Ray Audio.

Smart Ear 3D
Smart Ear 3D provides true reproduction of virtual 3D space using any headphones! It delivers the true 3D sounds for music, movies and also games. It's fantastically, especially if you've never experienced this kind of acoustic phenomenon before.
Hi-Fi Pre AMP
Hi-Fi 3D Technology is built-in power amplifier to boost the speaker volume. It will increase double volume level with high-quality HD audio output. Hi-Fi 3D Technology not only improves on the headphone but also enhances your speakers' sound volume. Hi-Fi preamp can boost the line level audio signals from analog and digital sources to levels that a power amplifier can detect and boost again to successfully power up the loudspeaker.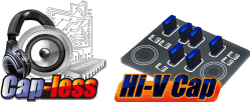 Hi-V Caps
Hi-V Caps is "Metalized Polypropylene Film Capacitor" for each audio channel circuit. The customized audio capacitors deliver low noise, low distortion and wide bandwidth to achieve the highest sound resolution and sound expansion.
Hi-Fi Power
Audio power is an important factor in audio quality. Most AV equipment isolates the power supply for each analog and digital signal to gather high-quality sound reproduction. Equipped with BIOSTAR Hi-Fi Power technology, it will utilize audio components with independent power design for a significant reduction in electronic noise and superb sound quality.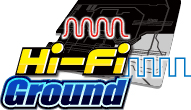 Hi-Fi Ground
BIOSTAR Hi-Fi Ground ( Golden Line ) is noise-blocking multi-layer PCB design to isolates analog audio signals from digital sources. Unique PCB layout is ideal for exceptional clarity and high fidelity sound.
Hi-Fi Sound
BIOSTAR Hi-Fi series motherboards have a sampling rate of 192kHz/24-bit which delivers a high quality audio through an analog connection to your home theater system, multi-channel speakers and high-end headphone. You can enjoy real Blu-ray grade high-definition sound that you've never experienced before.
Moistureproof PCB
The residence of PC usage and working environment is getting deteriorating and moist (rural, coastal, etc.). The PCB will be oxidizing easily by damp or absorbed moisture, and ionic migration or CAF (Conductive Anodic Filament) will be generated. Moisture-proof PCB meets high density and high reliability requirements for moisture proof.
Low RdsOn P-Pak MOS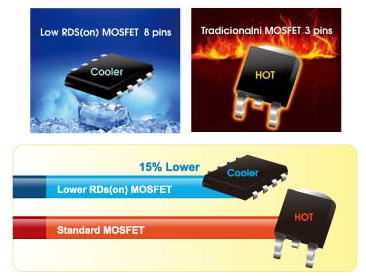 Low resistance design can significantly reduce the current out of energy loss. Low temperature, small size, excellent thermal conductivity.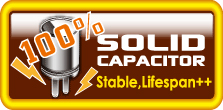 100% Solid Caps
With armor-plated Biostar Technology, all capacitors are placed with 100% solid capacitors that have a lasting life cycle, durability and stability for crucial components.
ESD Protection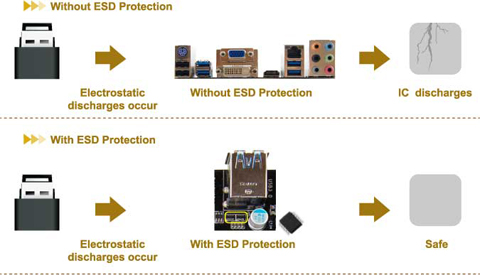 ESD (Electrostatic Discharge) is the major factor to destroying PC by electrical overstress(EOS) condition, ESD may occurr when PC users touch any devices connect to PC, which may result in damage to motherboard or parts .ESD protection is designed to protect the motherboard and equipment from damage by EOS.
USB Polyswitch
On board dedicated power fuse to help prevent USB port failure. It prevents USB Port overcurrent and safeguards your system and prolong device lifespan.
OC / OV / OH Protection
All BIOSTAR special circuit design detects overvoltage conditions and prevents voltage surges from spreading in real time. It also actively cuts off the overvoltage supply to protect your system. Over current protection safeguards motherboard from damage when doing overclock or an unusual current import. Over heat protection helps prevent motherboard & CPU from burning when exceeding the temperature limitation.
Dual GbE LAN
The primary advantage is the doubling of bandwidth which allows the network bandwidth of 1G to become that of 2G, and with two high-speed gigabit networks plus zero packet delay that provides super high data transmission efficiency. Another major advantage is "Load Balancing", it allows users to attach both network adapters to a single network. It will therefore support the aggregation "teaming" function by merging the two connections to support multiple aggregation modes. In addition, two Gigabit Ethernet lightning protection circuits reducing the probability of damage from lightning or other power surge. So if one connection is disabled the other connection will automatically kick in.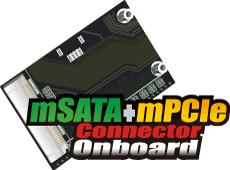 mini-PCIe+mSATA
Combo connector which allows both mini-PCIe and mSATA SSD and others upgrades