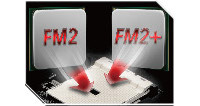 FM2/FM2+ APU Support

This motherboard is compatible with both AMD FM2 and FM2+ APUs. Please note that some new features may be only supported by FM2+ APUs.
What you've never understood about your computer is that it is scared to death of water, H2O, humidity - or whatever you'd like to call it. And even though you do not see the water, actually there may be lots of excessive moist in the air killing your motherboard silently and slowly. No, your motherboard doesn't melt when in contact with water like the wicked witch of the west, but it dies of short circuit. Luckily, ASRock has a new High Density Glass Fabric PCB design that reduces the gaps between the PCB layers to protect the motherboard against electrical shorts caused by humidity.
All Solid Capacitor Design

ASRock is determined to use high quality materials to build the best motherboards, that's why all the capacitors on this motherboard are built with 100% solid capacitors. These solid capacitors bring long lasting durability and ultra stable performance.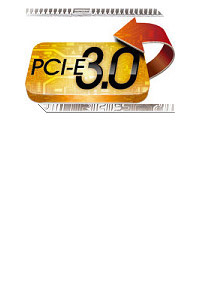 Next-Gen PCI-E 3.0 Support
This ASRock motherboard supports the Next-Gen PCI-E 3.0! PCI Express 3.0 can maximize the bandwidth of the next-gen PCI Express 3.0 VGA cards, thus providing ultimate graphics performance.
Get PCI-E 3.0 Benefits
Higher bit rate - 8.0GTps
Higher bandwidth per lane - 1GBps
Higher efficiency - 98.5% encoding efficiency
100% backward compatible with previous PCI-E 2.0 / 1.0 standard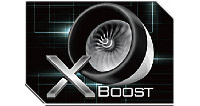 X-Boost
Brilliantly designed for smart overclocking, ASRock X-Boost Technology is able to unleash the hidden power of your CPUs. Simply press "X" when turning on the PC, X-Boost will automatically overclock the relative components to get up to 15.77% performance boost! With the smart X-Boost, overclocking CPU can become a near one-button process.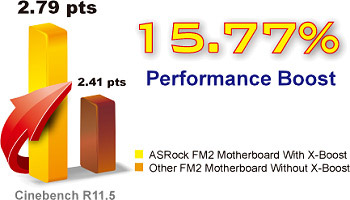 A-Tuning
A-Tuning is ASRock's multi purpose software suite with a new interface, more new features and improved utilities, including EZ OC, Auto Tuning, XFast 555, OC Tweaker, System Browser, Live Update, Tech Service and a whole lot more!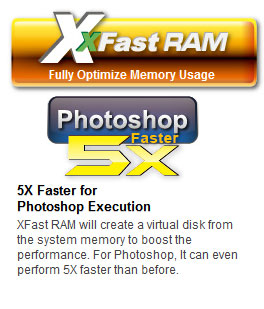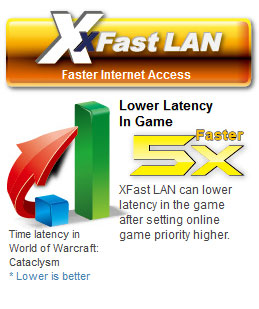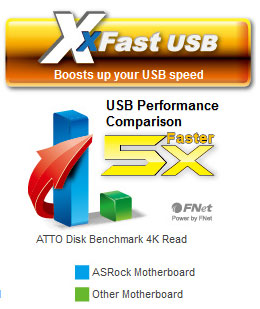 Easy Driver Installer
For users that don't have an optical disk drive to install the drivers from our support CD, Easy Driver Installer is a handy tool in the UEFI that installs the LAN driver to your system via an USB storage device, then downloads and installs the other required drivers automatically through the Internet. Completely no CD or optical disk drive required!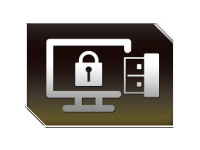 USB Key
In a world where time is money, why waste precious time everyday typing usernames to log in to Windows? Why should we even bother memorizing those foot long passwords? Nobody has time for that! Just plug in the USB Key and let your computer log in to windows automatically!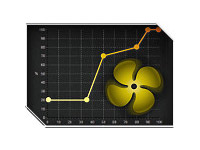 Fan-Tastic Tuning
Configure different fan speeds for respective temperatures using the graph. The fans will automatically shift to the next speed level when the assigned temperature is met.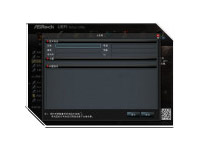 UEFI Tech Service
Contact ASRock Tech Service by sending a support request from the UEFI setup utility if you are having trouble with your personal computer. Users may try to choose the category of the issue they have encountered, describe the problem in detail, and then attach an optional picture or log file for our technical support team.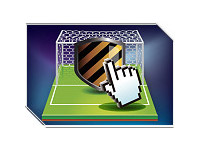 OMG
Limit and control your children's time spent on the Internet. ASRock OMG (Online Management Guard) technology allows you to establish an Internet curfew or restrict Internet access at specified times. Administrators are able to schedule the starting and ending hours of Internet access granted to other users.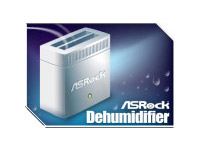 Dehumidifier
Dampness kills most electronics, so it's a better idea to keep your personal computer dry. Now users may prevent motherboard damages due to dampness by enabling Dehumidifier. When it is enabled, the computer will power on automatically to dehumidify the system after entering S4/S5 state.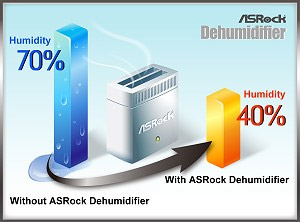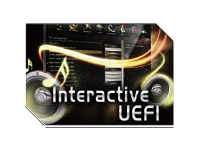 Interactive UEFI
Some people might complain that the BIOS configuration on old computers aren't user friendly enough. Well, not any more! ASRock Interactive UEFI is a blend of system configuration tools with cool sound effects and stunning visuals. The unprecedented UEFI provides a more attractive interface and brings a lot more amusement.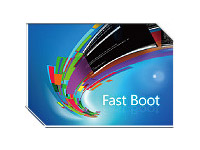 Fast Boot
With ASRock's exclusive Fast Boot technology, it takes less than 1.5 seconds* to logon to Windows® 8 from a cold boot. No more waiting! The speedy boot will completely change your user experience and behavior.
*The boot time may vary with a different configuration.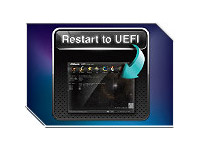 Restart to UEFI
Fast Boot is so fast that it is impossible for users to enter the UEFI setup utility during POST. Therefore, ASRock Restart to UEFI technology allows users to easily enter the UEFI setup utility automatically when turning on the PC next time. It is designed for those who constantly need to enter the UEFI setup utility.