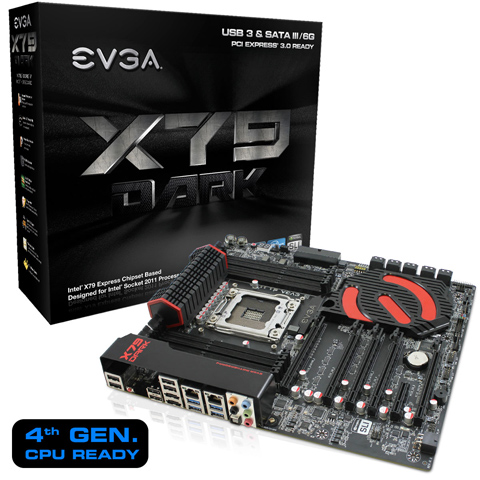 EVGA X79 Dark

P/N: 150-SE-E789-K2
The EVGA X79 Dark is a reimagined EVGA X79 platform. Built from the ground up this motherboard has a number of firsts, creating a landmark platform for PC enthusiasts everywhere.

It starts with a full 12-Layer PCB, improving overclocking stability and PCB cooling. The memory trace layout is optimized for compatibility, improved overclocking and full eight DIMM memory support. The CPU VRM is redesigned, using the best industry IR power stages, for efficient power to your CPU. The PCI-E layout is improved, better lane distribution for better performance + PCI-E 3.0 compatibility, and Four-Way SLI support in E-ATX form factor. A slew of great onboard devices including additional Four-Port SATA 6G controller for a total of six SATA 6G ports, Dual Intel Gigabit LAN's and a USB 3.0 controller for a total of six USB 3.0 devices.

The GUI BIOS has been completely redesigned. This brand new GUI BIOS from EVGA was focused on functionality so you can get in, and get out. No splash screens to click through, no enormous menus to scroll through, no steep learning curve. The way a modern BIOS should be.