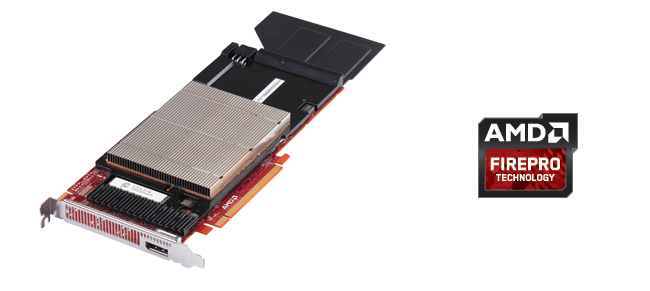 AMD FirePro™ S7000 Server Graphics
The AMD FirePro™ S7000 is the industry's most powerful single-slot server graphics processor available for powering virtual desktop infrastructure, workstation graphics or compute uses in the data center. It features 2.4 TFLOPS of peak single-precision floating-point performance horsepower and is up to 2.3 times as fast as the competitive solutions in peak single-precision floating-point performance, due in part to its innovative all-new Graphics Core Next (GCN) architecture.
AMD FirePro™ S7000 server graphics are an ideal solution for VDI deployments. The S7000 supports Microsoft® RemoteFX, which allows it to support multiple concurrent users from the data center with local-like desktop experiences. The S7000 also features pass-through support for VMware® ESX InfoCenter and Citrix® XenServer™ virtual machines, allowing one server outfitted with multiple cards to power multiple end user desktops from the data center (one GPU per end user).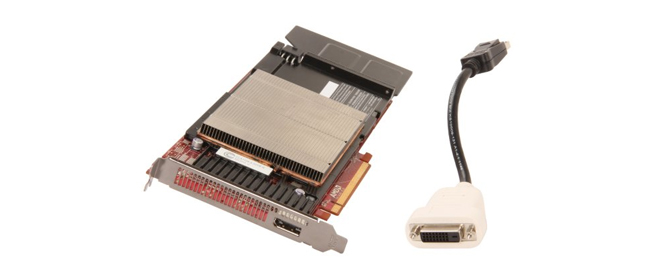 Cutting-edge graphics and compute performance through the all-new Graphics Core Next (GCN) architecture, delivering up to 2.4 TFLOPS of single-precision compute performance
Energy-efficient design, 150W maximum power consumption
To date, AMD is the only graphics manufacturer offering single-slot server graphics products, including AMD FirePro™ S7000 and V7800P
Graphics Core Next (GCN) Architecture

The world's first 28-nm GPU architecture, GCN is designed for high utilization, high throughput and multitasking. It's the only discrete graphics architecture compatible with the x86 programming model, paving the way for future software and hardware integration.

Energy Efficient Design

AMD FirePro™ S7000 is a single-slot server graphics card that consumes 150W at maximum power, and features intelligent power monitoring and management technologies. AMD PowerTune technology dynamically optimizes GPU power usage and AMD ZeroCore Power technology significantly reduces power consumption at idle.

AMD PowerTune

AMD PowerTune technology is an intelligent system that performs real-time analysis of applications that utilize a GPU. In the event that an application is not making the most of the power available to the GPU, AMD PowerTune can improve that application's performance by raising the GPU's clock speed by up to 30% automatically.

Passive Cooling

Designed for silent operation, and simplifies thermal design for servers.

Scalable Ultra Parallel Processing Architecture
Enables revolutionary floating-point performance across a wide range of computing applications:
2.4 TFLOPS of peak single precision floating point performance
152 GFLOPS of peak dual-precision floating-point performance
Support for OpenCL™ 1.2, DirectX® 11 and OpenGL® 4.2
Support for latest industry standard APIs enables optimal performance in leading applications.
Memory
Size/Type: 4GB GDDR5
Interface: 256-bit
Bandwidth: 154Gbps
Compute Performance



2.4 TFLOPS single-precision and 152 GFLOPS double-precision peak floating-point performance
Display Outputs



One DisplayPort

API/Features/OS Support


DirectX® 11
OpenGL 4.2
OpenCL™ 1.2
Shader Model: 5.0
AMD Eyefinity Technology Support: Yes
OS Support: Microsoft® Windows® 8 or Microsoft Windows Server® 2012, Windows Server® 2008 R2 SP1, Windows® 7, Windows® XP, Windows Vista® and Linux® (32- or 64-bit)
Cooling/Power/Form Factor
Max Power: 150W
Slots: Single
Form Factor: Full height/ Full length
Bus Interface: PCIe® x16
Cooling: Passive heat sink

System Requirements
10 CFM airflow cooling
Available PCI® Express x16 (single slot), 3.0 for optimal performance
Power supply and one 2x3 (6-pin) AUX power connector
Microsoft® Windows® 8 or Microsoft Windows Server® 20124, Windows Server® 2008 R2 SP1, Windows® 7, Windows® XP, Windows Vista® and Linux® (32- or 64-bit)
Internet connection for driver installation


---
Retail Package Contents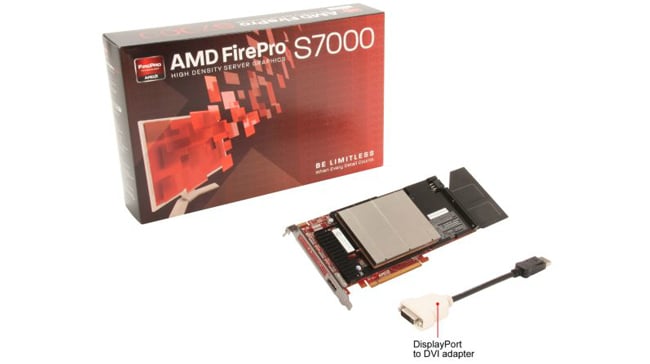 AMD FirePro™ S7000 server graphics card
Single DisplayPort to Single-link DVI adapter (passive)
Warranty and Support


Three-year limited product repair/replacement warranty
Direct toll free phone and email access to dedicated workstation technical support team
Advanced parts replacement option