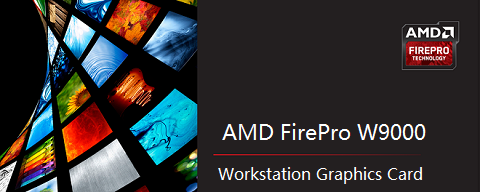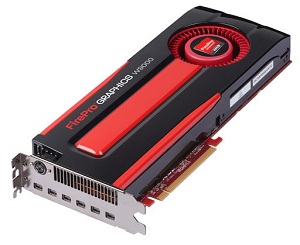 The AMD FirePro™ W9000 is the industry's most powerful professional graphics card available for CAD/CAE, media and entertainment professionals. It's up to 3.9 times faster than competitive solutions in single precision compute performance, due in part to its innovative all-new Graphics Core Next (GCN) architecture that enables it to process challenging compute workloads effortlessly. In addition, the 3D primitive graphics performance is up to 1.5 times faster than equivalent competitive offerings, delivering better interactivity when working with complex models and faster render times.

Equipped with a massive 6GB GDDR5 frame buffer, the W9000 delivers up to 1.8 times more memory bandwidth than competitive solutions. With high performance computing (HPC) features like Error Correcting Code (ECC) Memory, it's the ideal choice for HPC workflows. Its six mini DisplayPort outputs can drive up to six independent displays at a resolution 12 times standard HD using AMD Eyefinity multi-display technology; all this allows designers unparalleled productivity and flexibility.
Cutting-edge graphics and compute performance through the all-new Graphics Core Next (GCN) architecture, delivering up to 1.95 billion triangles per second and 4.0 TFLOPs of single precision compute performance for unrivaled performance in your workflow
Error Correcting Code (ECC) memory ensures precision and accuracy in your results
Drive up to six displays with AMD Eyefinity technology, allowing users to multi-task across multiple applications with ease
Optimizations and certifications for many major CAD/CAE, media and entertainment applications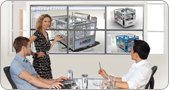 AMD Eyefinity Technology With Six Mini DisplayPort 1.2 Outputs
Industry-leading multi-display technology enables a highly immersive and unrivaled multi-tasking experience across up to six displays, powered by a single AMD FirePro W9000 graphics card. The six mini DisplayPort 1.2 simultaneously output multiple, independent audio streams and display content at resolutions beyond standard HD (maximum resolution of 4096 x 2160).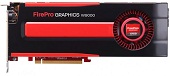 GeometryBoost
GeometryBoost allows the GPU to process geometry data at a rate of twice per clock cycle results in a doubling in the rate of primitive and vertex processing. Triangle rates increase two-fold relative to a GPU that does not possess GeometryBoost.

Error Correcting Code (ECC) Memory
Error Correcting Code (ECC) Memory helps ensure the accuracy of your computations by correcting single or double bit errors as a result of naturally occurring background radiation.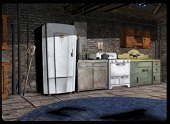 Partially Resident Textures (PRT)
PRT can utilize absolutely enormous texture files, up to 32TB large, with minimal performance impact. PRT accomplishes this by streaming small bits of these massive textures into the GPU as needed, giving compatible applications a virtually endless supply of unique texture data.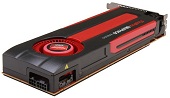 Framelock / Genlock
Facilitates synchronization to external sources (Genlock) or synchronizes 3D rendering across multiple GPUs in different systems (Framelock). (Requires ATI FirePro S400 synchronization module)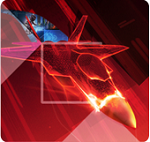 Energy Efficient Design
AMD PowerTune technology dynamically optimizes GPU power usage and AMD ZeroCore Power technology significantly reduces power consumption at idle.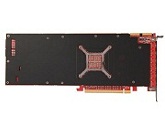 AMD PowerTune
AMD PowerTune is an intelligent system that performs real-time analysis of applications that utilize a GPU. In the event that an application is not making the most of the power available to the GPU, AMD PowerTune can improve that application's performance by raising the GPU's clock speed by up to 30% - automatically.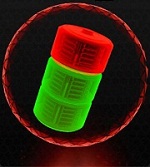 AMD ZeroCore
AMD ZeroCore Power technology leverages AMD's leadership in notebook power efficiency to grant our desktop GPUs the ability to power down when your monitor is off, also known as the "long idle state."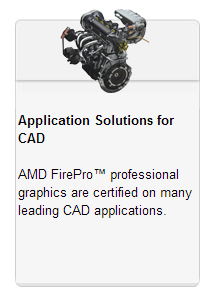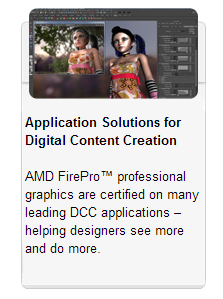 Memory
Size/Type: 6GB GDDR5
Interface: 384-bit
Bandwidth: 264Gbps
Compute Performance
4.0 TFLOPs single precision and 1.0 TFLOP double precision floating point performance
Error Correcting Code (ECC) Memory support
Display Outputs
DisplayPort: Six Mini
Max DisplayPort 1.2 Resolution: 4096 x 2160
Max DisplayPort 1.1 Resolution: 2560 x 1600
API, Features, & OS Support
DirectX® 11.1
OpenGL 4.2
OpenCL™ 1.2
Shader Model: 5.0
AMD Eyefinity Technology Support: Yes
AMD CrossFire™ Pro Support: Yes
AMD HD3D Pro Support: Yes (via stereoscopic 3-pin mini DIN)
OS Support: Microsoft® Windows® 8, Windows® 7, Windows® XP, Windows Vista® and Linux® (32- or 64-bit)
Cooling, Power, & Form Factor
Max Power: 274W
Slots: Two
Form Factor: Full height / Full length
Bus Interface: PCIe® x16, 3.0 for optimal performance
Cooling: Active fan
System Requirements
Available PCI® Express x16 (dual slot), 3.0 for optimal performance
A power supply, one PCIe® AUX power connector (8-pin) and one PCIe® AUX power connector (6-pin)
2GB system memory
Microsoft® Windows® 8, Windows® 7, Windows® XP, Windows Vista® and Linux® (32- or 64-bit)
Internet connection for driver installation
Retail Package Contents
AMD FirePro™ W9000 workstation graphics card
Quick Start Reference Guide
AMD CrossFire® Pro connector
Two Mini DisplayPort to single-link DVI adapters (active)
Warranty and Support
Three-year limited product repair / replacement warranty
Direct, toll-free phone and email access to dedicated technical support team
Advanced parts replacement option