The AVIOR GHSW8242 is a high-end 4x2 HDMI switch splitter which splits any one source out to 2 HD TVs or displays with IR and RS-232 control. Serving as 2 high-end devices in one, a switching solution with 4 HDMI inputs for devices such as DVR / Set-top boxes, Blu-ray / DVD players, game consoles, media servers and a splitter with 2 HDMI outputs for 2 HD TVs or displays.
It features 2 separate digital audio outputs with TOSlink and Coaxial along with 1 analog RCA (Red/White) audio output for separate connection of an audio video receiver. Additionally, it supports HDMI's "ARC" (Audio Return Channel) providing the bidirectional audio support for the audio return from the HDTV back to the connected A/V receiver.
Includes a built in serial port with RS-232 bi-directional capabilities along with intuitive front panel pushbutton and IR remote control.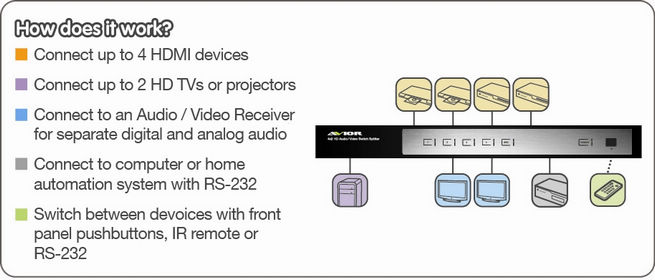 Versatile Connectivity The AVIOR GHSW8242 connects up to 4 HDMI Devices and splits any one source between 2 HDTVs. With RS-232 interface, it can also connect to computer or home automation system.
Separate audio outputs The AVIOR GHSW8242 incorporates 2 separate digital audio outputs with digital audio out with a TOSlink and Coaxial port and analog audio out with RCA output to separately connect to an A/V receiver. .
Switch between devices The AVIOR GHSW8242 allows you to switch between devices via front-panel pushbutton, IR remote or RS-232.
Warranty, Returns, And Additional Information