Use the ATEN VS0401 VGA switch to display the video output of four computers on a single monitor or projector that is up to 210 feet away. Effortlessly switch between VGA/Audio sources via the front panel pushbuttons, RS-232, or IR remote control. Don't worry that the video and audio will be compromised after transmission; it won't be, thanks to the 300MHz bandwidth. The VS0401 VGA switch supports high-resolution video and stereo audio transfer. The LED lights indicate the power status and source device. The all-metal casing provides durability and protection. It supports plug-and-play – no software installation required.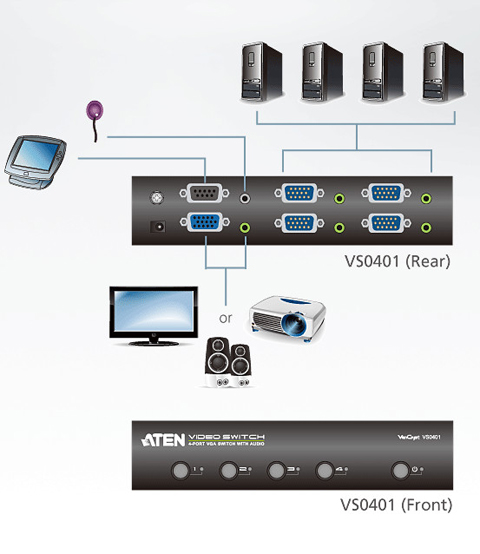 Hook up four PCs to one display The VS0401 4-Port VGA switch with audio allows you to connect four audio/video source computers to a single monitor or projector. The signal transmission distance can be up to 210 feet (65 m).
Exclusive Video DynaSync technology ATEN's unique Video DynaSync technology eliminates boot-up display problems and optimizes the resolution when switching between ports.
Superior quality video and audio support The VS0401 VGA switch supports high video resolution of up to 1920 x 1440, and stereo audio. The bandwidth of up to 300MHz ensures the optimal video quality. It supports VGA, SVGA, UXGA, WUXGA, and multisync monitors.
Control effortlessly in different ways The VS0401 VGA switch offers a built-in bi-directional RS-232 serial port for high-end system control. With the ability to use high-end serial control devices via RS-232 commands, the VS0401 can be controlled by secondary systems with advanced functions such as port switching, auto switching, a front panel push-button lock, and "power on" detection. The IR input port allows connection of an IR receiver, so you can select source device with an IR remote. Or you can simply use the front push buttons for device selection.
Application The VS0401 switch is perfect for the meeting room, media centers, classrooms, or any presentation environment requiring multiple audio/video sources to be accessed on a single display.
Warranty, Returns, And Additional Information