With its advanced HDBaseT extension technology, ATEN's latest HDMI extender, the VE814, faithfully transmits a video signal from an HDMI source to HDMI displays that are up to 100m away via just one Cat 5e/6 cable. It supports one local and two remote displays. The EDID Expert enables optimized power-up and display no matter what the scenario. You can get more fun from your HDMI displays, because this HDMI extender supports HDMI 3D, Deep Color, 4kx2k, and HDCP.
The VE814 transmits not only HDMI signals, but also control signals and Internet signals. The Ethernet pass-through port makes it possible to extend internet connectivity. The RS-232 and IR signaling pass-through ports make it easy to control the HDMI source device from the remote unit or access the remote display devices from the local unit. The built-in 8KV/15KV ESD protection keeps your investment well protected. It is easy to install – no software required.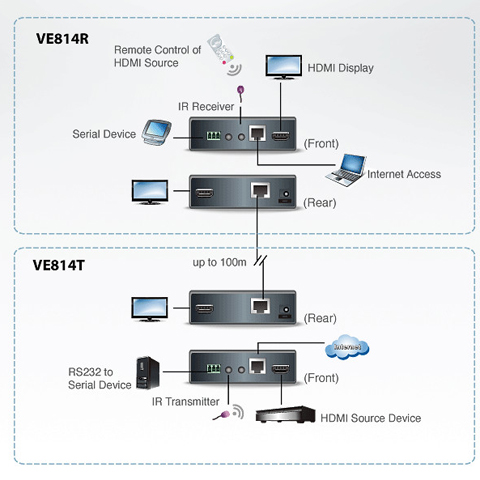 Long-distance HDMI signal transmission Armed with HDBaseT extension technology, the VE814 HDMI extender lets users easily connect the transmitter and receiver via only one Cat 5 cable, and eliminates signal interference during transmission. The VE814 HDMI extender supports up to three HDMI displays – one local (connect to transmitter VE814T) and two remote displays (connect to receiver VE814R). It transmits your videos to remote displays located up to 100m away.
Add internect access to the remote unit Connect the VE814T transmitter to your existing LAN. Internet signals will then be transmitted through the Cat 5 cable to the VE814R receiver. Now you can get Internet access up to 100m away from the VE814T transmitter!
Bi-directional IR signal transmission support The VE814 HDMI extender also supports RS-232 and IR signaling pass-through. It allows you to control the HDMI source device from the remote unit (VE814R), while also granting access to the HDMI display device from the local unit (VE814T).
Superior video quality support Get the most out of your HDMI displays. The VE814 extender is HDMI (3D, Deep Color, 4kx2k) and HDCP compatible to ensure superior video quality. It also supports up to 340MHz bandwidth for high-performance video.
EDID Expert EDID Expert selects the optimum EDID settings for smooth power-up and the highest quality display.