PRODUCT DESCRIPTION
This 25U SmartRack™ enclosure cabinet ships mounted on a special pallet that features additional reinforcement and shock-absorbing material. The pallet's protective cushion safeguards the enclosure and the precision components it contains during shipping. Aside from its special shock pallet packaging, the SR25UBSP1 is identical to the SR25UB. It is packed with features designed to simplify rack equipment installations and maintenance: top and bottom cable routing ports, perforated door and side panels to promote efficient airflow, adjustable vertical mounting rails, and more. And as part of the SmartRack family, the SR25UBSP1 is compatible with Tripp Lite's extensive range of rackmount accessories, enabling you to customize your solution to meet any requirement. The SR25UBSP1 comes backed by a five-year warranty.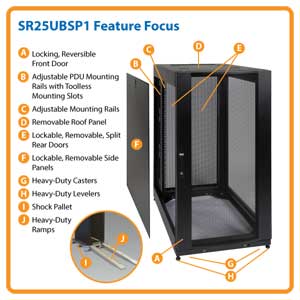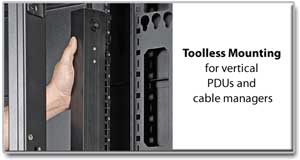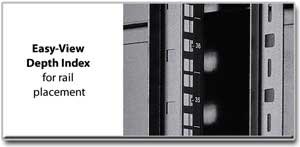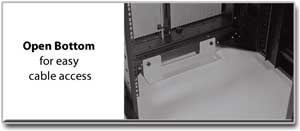 Shock Pallet Packaging
The SR25UBSP1's special shock pallet packaging allows it to be fully configured in a centralized location, and safely re-shipped to a remote site, with significantly lower service costs. This shock pallet is reinforced with shock-absorbsing material, and its protective cushion safeguards the enclosure against damage during re-shipping. It supports up to 1,250 pounds, including the 281-pound weight of the enclosure and 969 pounds of additional equipment. Heavy-duty ramps are included with the pallet to allow the enclosure to be safely rolled on and off the pallet during configuration.
Simple Equipment Installation
The SR25UBSP1 is compatible with all standard 19-inch rack equipment, and is designed to simplify equipment installation. The front and rear pairs of vertical rails feature square mounting holes and are numbered by rack space for easy reference. The rails are adjustable in quarter-inch increments to accommodate equipment depths from 4- to 37 inches. Adjustment is quick and convenient – simply unscrew the rails, slide them to the desired depth, and restore the screws. The rails feature square mounting holes and, once the enclosure has been safely removed from its shock pallet packaging, are capable of supporting up to 3,000 pounds of equipment with included installation hardware (2250-pound rolling capacity).
Secure Equipment Access
The SR25UBSP1 is designed to provide a safe, secure installation solution for up to 3,000 pounds of mission-critical rackmount equipment. It features a locking, reversible front door and locking, removable side panels. This prevents unauthorized access to installed equipment, while making it easy for authorized personnel to perform inspections, maintenance, and equipment replacement.
Vented Top and Bottom Panels with Cable Cutouts
The top and bottom panels of the SR25UBSP1 are furnished with vents designed to help remove warm air from the enclosure, and draw in cool air by convection. They also support installation of standard user-supplied case fans. The top and bottom panels are also provided with ports for cable routing.
Preinstalled Casters and Levelers
To simplify deployment, the SR25UBSP1 comes with preinstalled casters that support a rolling load of 2,250 pounds. With casters installed, the SR25UBSP1 can easily be maneuvered into to desired location, and then secured in place by adjusting the unit's levelers. Note: the casters are intended for minor position adjustments within the final installation area only, and are not designed for moving the enclosure over long distances.
Full Range of Rackmount Accessories
The SR25UBSP1 is compatible with Tripp Lite's extensive range of SmartRack accessories, including cooling fans, blanking panel kits, cable managers, mounting brackets, shelves, and stabilization kits. This flexibility allows you to cutomize your rack enclosure to suit the needs of any requirement.
Peace of Mind
The SR25UBSP1 comes with a five-year product warranty and a rapid-response repair/replacement policy that's unmatched in the industry.
Technical Specifications
Load capacity: 3,000 pounds stationary/2,250 pounds rolling/1,250 pounds on shock pallet
Mounting depth: 4- to 37 inches
Mounting holes: Square (mounting hardware included)
Door: Lockable/reversible/perforated
Side panels: Lockable/removable/perforated
Top and bottom panels: Vented
Cable ports: Top and bottom panels (removable covers)
Height: 49 inches
Width: 23.63 inches
Depth: 43 inches
Weight: 195 pounds
Material of construction: Steel
Warranty: Five years
Agency Approvals: Tested to UL 60950, CE, EIA/ECA-310-E, NOM (Mexico) RoHS