SeaSonic PLATINUM 1050W Modular Power Supply
Introduction

Ultra Tight Voltage Regulation
Improved load voltage regulation keeps the voltage fluctuations on the 12V output within +2% and 0% (no negative tolerance), and on the 3.3V and 5V outputs between +1% and -1%, which (under 80 Plus load conditions) results in smooth and stable operation.

Seasonic Hybrid Silent Fan Control - S²FC & S³FC*
The industry first, advanced three-phased thermal control balances between silence and cooling. The Hybrid Silent Fan Control provides three operational stages: Fanless, Silent, and Cooling Mode. In addition, there is a switch provided to allow for manual selection between the Seasonic S²FC (fan control without Fanless Mode) and the S³FC (fan control including Fanless Mode).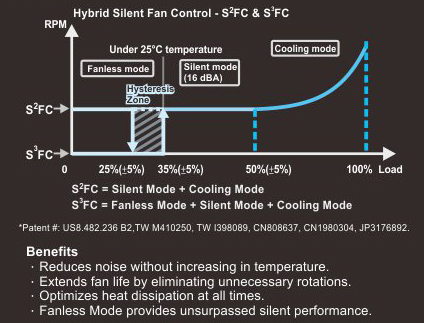 New feature - Hysteresis - is achieved by a fan control IC, which optimizes how frequently the fan switches on and off. At 77°F (25°C) ambient temperature the fan turns on when the load rises above 35% (±5%) and it turns off when the load drops below 25% (±5%). Due to this lag in response the fan switches on and off less frequently, which reduces power loss in Fanless and Silent Mode.
Dual Copper Bars
These pure copper bars conduct high current more efficiently to reduce impedance and minimize voltage drop.