Serious computer deserves serious power supply unit. The IN WIN 80 PLUS BRONZE Certified GreenMe series is a high performance power supply series that delivers quality and efficiency required by serious system builder. It features Active Power Factor Correction (PF>0.99), high efficiency voltage transfer technology (efficiency up to 85%), mesh sleeve on all cables for easier cable routing and better ventilation, 4-pin molex easy-swap connectors, and load-controlled 120mm fan for efficient, silent cooling. Four +12V rails with 2x 6+2-pin PCIe connectors gear up this PSU for multiple GPUs system. Designed with environment protection in mind, the GreenMe PSU also concentrates more on eco-design like no other, making it an ideal choice for those demanding performance, durability and eco-friendliness at the same time.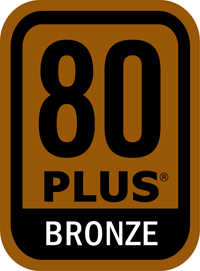 650W Power Output The IN WIN GreenMe 650 power supply delivers rated 650W of safe, reliable output for your computer systems. Four +12V rails with 2x 6+2-Pin PCIe connector can juice up your high-end CPU and even multiple graphics cards.
80 PLUS Bronze Certified The 80 PLUS Bronze certified power supply provides high power efficiency of at least 82% at any load between 20% and 100%, saving your money on your electrical bill, reducing heat in your computer's system and prolonging its life.
Comprehensive Protection Multi-protection function (OVP, OPP, UVP, SCP, OCP) deliver unmatched protection for your PSU and system.
Eco-Design Compliant with eco-design Of energy-using products directive, the IN WIN GreenMe 650 takes environment protection to a new level by using eco-friendly painting, high-quality Japanese bulk capacitor, 100% recyclable package and soy printing ink. It's also Erp Lot 6 compliant for Lower Power Usage at Standby Mode.
NVIDIA SLI Ready & AMD CrossFireX Certified The IN WIN GreenMe 650 is AMD CrossFireX and NVIDIA SLI Ready and comes with 2x 6+2 Pin PCI-E connectors enabling you to build a high performance multi-GPU gaming system.
Silent Cooling Smart temperature and load controlled 120mm double ball-bearing fan delivers excellent heat dissipation at low noise level, keeping your PSU running at peak performance.