The Iogear GVS74 is a great choice for splitting and carrying a video signal to four displays with the same quality as the original signal. Using Iogear's VSE (Video Signal Enhancement) technology, the Iogear GVS74 allows you to not only split the signal but also amplify the video signal to increase the transmission distance. The Iogear GVS74 operates with a bandwidth of 350MHz to transmit large amounts of information at a very high speed, enabling the high resolution up to 1920x1440 in 24 or 32 bit true color mode, delivering clear and detailed picture without loss or distortion.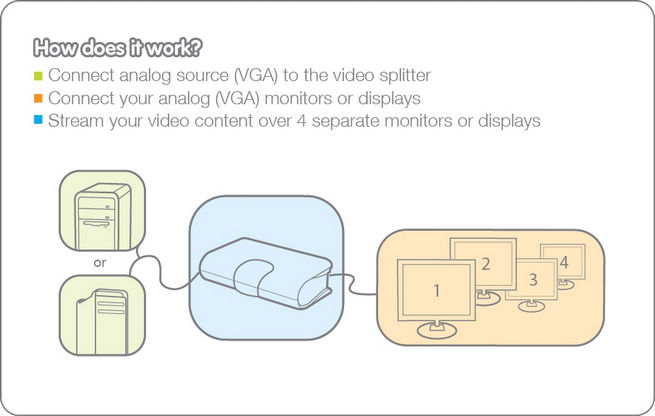 Stream One Video Source to Four Monitors The Iogear GVS74 is designed to take video input from a single source and direct it to four video outputs for monitors using analog signals.
High Bandwidth The Iogear GVS74 operates with ultra high 350MHz bandwidth for highest signal strength in all applications with up to 1920x1440 resolution.
Iogear's VSE With Iogear's VSE(Video Signal Enhancement) technology, the Iogear GVS74 can amplifies video signal strength throughout your desired set-up.
Cascadable Design The Iogear GVS74 uses cascadable design to split video signal to more than 4 displays for maximum expandability.
Warranty, Returns, And Additional Information