The 2-Port USB Dual-Link DVI Cable KVM Switch with Audio from IOGEAR represents a simple method for sharing one dual-link DVI monitor, mouse, keyboard, speaker set and microphone between two computers. The product supports 32 bit color at resolutions up to 2560x1600 and its mouse and keyboard emulation ensures uninterrupted operation when switching computers.
It utilizes 2 convenient switching methods; the first is a simple pushbutton on a remote switch that fits on any desired locations on your desk, and the second is by hotkey that allows you to independently switch and control functions between computers.
Equipped with IOGEAR's DynaSync* technology which remembers your monitor's ideal resolution and refresh rate, the GCS982U boots all your computers simultaneously and switches back and forth between the two computers while still maintaining the ideal resolution of the monitor. (*IOGEAR's DynaSync provides the EDID support for Windows 7)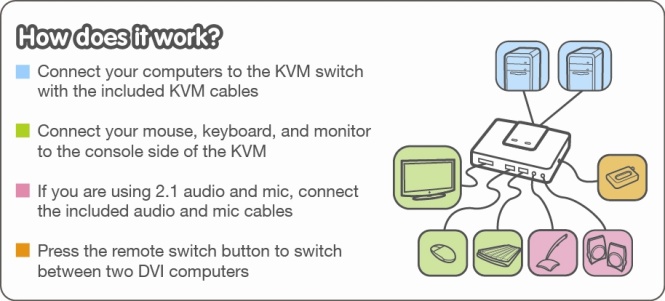 One dual-link DVI console controls two dual-link DVI / USB computers Share one dual-link DVI monitor, keyboard, mouse, speaker set and microphone between two dual-link DVI/USB computers using the IOGEAR GCS982U KVM switch. This KVM switch supports 32 bit color at resolutions up to 2560x1600 and 2.1 stereo sound & microphone. Sharing USB 2.0 peripherals via mouse port by connecting a powered USB hub to expand your USB connectivity (Mouse emulation must be disabled for this feature to function correctly).
Easy and quick switch The IOGEAR GCS982U offers port switching via remote switch button, mouse or hotkeys. Hotkeys also allows independent KVM and audio switching between computers. IOGEAR's DynaSync technology reads and remembers the monitor's parameters (EDID) so there is no delay or change of video resolution when switching between, or booting computers. USB mouse and keyboard emulation ensures error-free boot-up and instantaneous recognition when switching computers.
Multi-platform Support The IOGEAR GCS982U KVM switch supports multiple operating system including Windows, Mac and Linux computers as well as Sun Solaris workstations. IOGEAR delivered a huge breakthrough in KVM operation to Mac and Sun users by enabling functionality for the special keys on these systems.