SanDisk Solid State Drive (128 GB*) - Quick Look
Sequential read speeds of up to 490 MB/s**
Sequential write speeds of up to 350 MB/s**
Affordable upgrade for PCs and laptops
Designed to withstand shock and vibration for reliable operation
Low power consumption; extends laptop battery life
Three-year limited warranty3

Watch a SanDisk SSD outperform a 7200 RPM hard drive


Sequential Read Speeds of up to 490 MB/s
The SanDisk SSD offers sequential read speeds of up to 490 MB/s and sequential write speeds of up to 350 MB/s**. Compared to a traditional 7,200 RPM hard drive, it offers much faster bootup and load times1.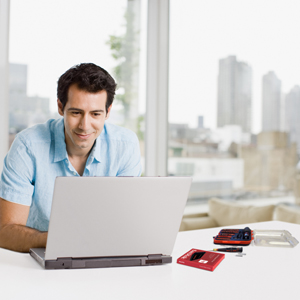 Easy Upgrade Defers Computer Replacement Costs
The SanDisk SSD is a drop-in replacement for any 2.5-inch hard drive. Swapping your current drive with this SSD is an easy way to boost performance and defer computer replacement costs.
Extend Laptop Battery Life
Because it has no spinning platters, the SanDisk SSD stays cool and quiet during use. It also draws less power than a traditional hard drive to prolong your laptop's battery life--an added bonus for mobile laptop users.
Durable and Long Lasting
With no moving parts, the SanDisk SSD endures shocks and vibrations better than traditional spinning-platter hard drives. It is rated at 3 million hours mean time before failure2 (MTBF), making it a smart long-term investment.
System Requirements and Warranty Information
The SanDisk SSD uses the SATA 6 Gb/s standard connection and is backward compatible with SATA 3 Gb/s and SATA 1.5 Gb/s. It measures 0.37 by 3.95 by 2.75 inches (H x W x D) and works with any computer that has a 2.5-inch hard drive.
The SanDisk Solid State Drive is backed by a three-year limited warranty3.
Package Contents
SanDisk Solid State Drive (128 GB*).
SanDisk

Solid State Drive

64 GB*

128 GB*

256 GB*

Performance

Seq. Read (up to)
490 MB/s
490 MB/s
490 MB/s
Seq. Write (up to)
240 MB/s
350 MB/s
350 MB/s
Rnd. Read (up to)
7200 IOPS
8000 IOPS
7300 IOPS
Rnd. Write (up to)
1800 IOPS
2100 IOPS
2200 IOPS

MTBF²

Telcordia Stress Part
4.1M hours
3.0M hours
2.0M hours