Known as the world's fastest and most powerful DDR3 memory available on the market, the G.SKILL TridentX is imbued with extreme overclocking capabilities waiting to be unleashed in your system. What makes the TridentX different is the removable heat spreader fin. Let it be when you need aggressive cooling. When you need to fit the memory modules with large CPU coolers, you can slide off the heat spreader fin by removing the two screws and washers.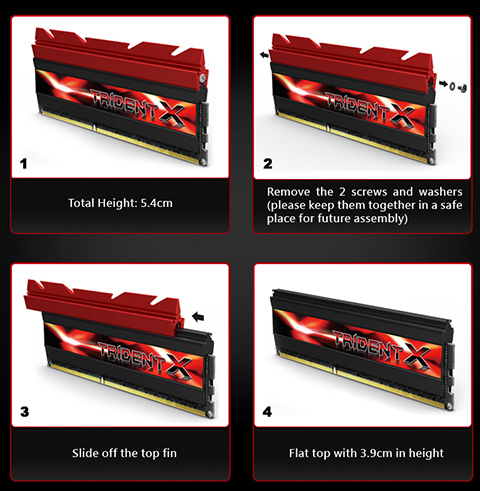 DDR3 2133 Reaching the optimal balance between the sheer speed of DDR3 and low latency, the G.SKILL TridentX Series DDR3 memory kit is rated at 2133MHz 9-11-11-31 to provide ample computing capability to the Intel LGA1155 and AMD Llano/AM3+ platforms.
Removable Heat Spreader Fin The TridentX heat-spreader comes with removable top fin design. It gives overclocking enthusiasts more flexible options in memory cooling systems, and reduces the height to fit large CPU coolers.
XMP Support Intel Extreme Memory Profiles (XMP) technology provides a robust, profile-based overclocking solution for novice and experienced overclockers. Easily overclock your platform by selecting the predefined profile in the BIOS, or manually adjust the frequency and timings to extract the maximum performance from your system.