The Turbo NAS server is an easy-to-use networked storage center for the ultimate digital home entertainment experience.
With the Turbo NAS server, it is easy for you to view photos, listen to music, and even watch Full HD 1080p movies on a widescreen TV or projector through PS3, Xbox 360, or other network media players. It is also easy for you to share multimedia content with family and friends by web browsers wherever they are on the internet. iPhone, iPod touch, iPad and Android users can browse shared photos or listen to their music collections anywhere with 3G or Wi-Fi connection by streaming the content directly to the device – no sync required.
An easy-to-use storage center for a new digital home experience
• View precious photos with slideshows and even background music
• Listen to your favorite music using customized playlists
• Enjoy high-definition movies or family videos on TV when streamed through various network players
• Anytime, anywhere access to your digital media over the Internet by web browsers or your iPhone/iPod touch/iPad, or Android mobile devices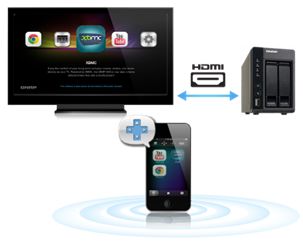 Home Theater with HD Station
Skip buying a media player! The TS-x69L series is a full-fledged media player capable of cinema-grade home entertainment.
Home Theater and Storage in One
The XBMC home center comes packaged with the NAS. Now, instead of having a cluttered media set-up, directly use the QNAP NAS as your home theater server. Directly connect the NAS to your TV through an HDMI cable and an amazing home multimedia center will show up. Pair it with the Qremote app to turn your iPhone or Android devices into a remote to play your music, videos, and photos on your TV.
Centralize and Protect your Data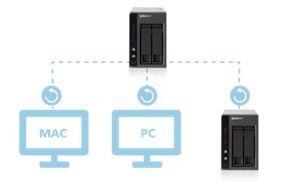 Apple Time Machine Backup
Time Machine is fully supported to help the Mac OS-X user create a more efficient and convenient backup solution. The NAS works wirelessly with Time Machine so you no longer need an external drive.
More Backup Options!
The NAS is packed with backup features. From installing the license-free Netback Replicator software to as many Window PCs to execute data backup scheduled or in real time. Set up a disaster recovery solution with the Real Time Remote Replication feature. Back up your data to online cloud storage services, such as Amazon S3 and Symform - the Turbo NAS has it all.

Freely Access your Data Anywhere
Easily share your files with multiple users on various devices. Drag and drop files from the NAS directly to your desktop or vice versa. You can even remotely access your data on the go! Your NAS is your personal cloud and file server so you always stay connected to your data.
http://www.youtube.com/watch?v=nXe9IcxfuXc&feature=player_embedded
Download Station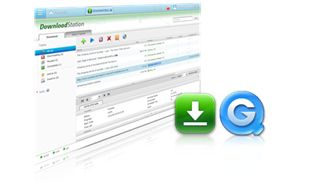 The QNAP NAS is a perfect download center for high speed BT, eMule, FTP, HTTP download. You can use the Download Station with the QGet utility to manage your download tasks remotely on the local network or the Internet. The NAS also supports continuous NZB download, and eMule download by installed QPKG without turning on a PC.
Happy Get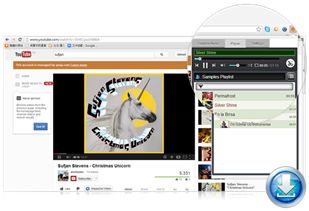 Ever wanted to archive your favorite YouTube videos? HappyGet is a useful feature that allows you to control the Turbo NAS to download and backup videos from Youtube, Facebook and Vimeo directly to the Turbo NAS without storing them on a computer. By installing the HappyGet plug-in on the Chrome Web Store, with the embedded HappyGet button, you can select your preferred playlist and download an array of videos all at once.
Mobile Apps

Imagine having your entire media collection at the palm of your hand. QNAP's free mobile applications for iPhone, Androids, and iPad allows you to easily connect to your NAS and manage your files.
All-in-One NAS Server for Home or Small Office Spaces

The Turbo NAS brings you extras with its all-in-one home server features, e.g. iTunes server, UPnP media server, backup server, printer server, FTP server, Web server, database server, etc.