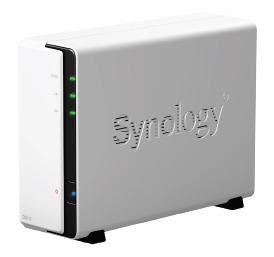 Synology DiskStation DS112
Feature-rich 1-bay NAS Server for Small Business & Workgroups

Synology® DiskStation DS112 offers an affordable and full-featured network attached storage solution, specifically designed for small business & workgroup users who need to share data cost-effectively, while increasing productivity with comprehensive business-oriented applications. Running on DiskStation Manager (DSM) operating system, it delivers ease of use and a variety of features.
Highlights
Optimal Price/Performance Ratio
Features SuperSpeed USB3.0
Cool and Quiet Design
Hardware Encryption Engine
Windows®+ Mac®+ Linux® Cross Platform File Sharing
Rich Office Applications
Running on Synology DiskStation Manager (DSM)
Optimal Price/Performance Ratio
Synology DS112 delivers an average 110.19 MB/s reading speed in a Windows environment, and 71.84 MB/s writing. Coming with USB3.0 support which offers transmission speeds of up to 5 Gbps, namely 10 times faster than USB 2.0, DS112 delivers exceptional performance in its class.
DiskStation DS112 provides a reliable solution for data sharing with an easy-to-use management interface, and comprehensive office applications, including a complete backup solution making it one of the best values in 1-bay NAS servers available today.
Windows+Mac+Linux Cross Platform File Sharing
Synology DS112 is designed for data storage and sharing among Windows, Mac, and Linux. Seamless file sharing across different operation systems is an effortless process. Windows ADS integration allows the Synology DS112 to quickly and easily fit into an existing network environment with no need to recreate user accounts on Synology DS112.
If you are always on the move, Synology provides a handy app, DS file for iPhone®, iPad® and Android™ users. Anything stored on Synology DS112 can now be accessed remotely using DS file via the Internet.
Rich Office Applications
Synology DS112 runs on the award-winning operating system, Synology DiskStation Manager (DSM), offering comprehensive applications and features designed specifically for Small Business & Workgroups.
The built-in mail server turns Synology DS112 into a dedicated mail service provider, and the USB printer sharing capability minimizes businesses' cost by sharing printing resources throughout the office. VPN Server package offers an easy VPN solution that turns your DS112 into a VPN server, providing a secure way of connecting to a private LAN at a remote location.
Synology Web Station with support for PHP/MySQL® web content allows hosting of up to 30 websites, and 3rd party web applications such as Content Management, Customer Relationship Management & e-Commerce system.
Effective Backup Solutions
Synology DS112 offers a centralized backup target to consolidate fragmented and unstructured data across a network. PC users can back up their data to Synology DS112 using Synology Data Replicator software, and Mac OS X® users enjoy native Apple® Time Machine® integration.
A backup wizard is provided for backing up data from Synology DS112 to another Synology DiskStation, to other rsync server, or to an external drive. Backing up to Amazon® S3 cloud service is also supported. The add-on package, Time Backup, keeps DiskStation data in multiple versions, so IT administrators could easily keep track of them and restore to a previous version whenever required.
Energy Efficient with Cool and Quiet Design
Synology DS112 is designed with energy efficiency in mind. Not only does it provide a 60x60mm fan and the smart airflow to keep the system running cool 24/7, its noise dampening design makes it really quiet compared to PC counterparts. Synology DS112 consumes only 13.2 watts in operation, and support of Wake on LAN/WAN, multiple scheduled power on/off, and hard drive hibernation can further reduce power consumption and operation cost, as well as extending the lifespan of the hard disk.
All Synology products are produced with RoHS compliant parts and packed with recyclable packaging materials. Synology acknowledges the responsibility as a global citizen to continually work to reduce the environmental impact of every product produced.
Connections & buttons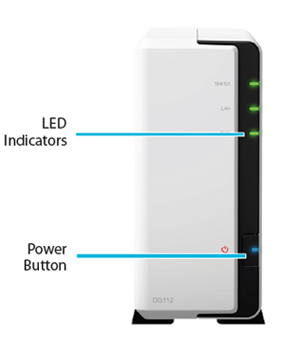 Networking