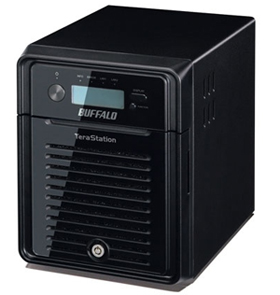 TeraStation™ 3400

4-Drive Business Class Network & iSCSI Unified Storage
TeraStation™ 3400 is a robust four drive NAS solution ideal for small offices and professional users requiring cost-effective network storage to share and safeguard data with the reliability of RAID data protection. With a dual-core ARM processor, TeraStation 3400 efficiently manages file transfers and everyday NAS functions.
OVERVIEW
With a powerful dual-core ARM processor, TeraStation 3400 provides high performance operation during file transfers and everyday NAS functions. TeraStation 3400 runs many services simultaneously and the dynamic combination of the 1.33 GHz processor and 1 GB DDR3 RAM enables the ability to focus on concurrent tasks with minimal performance degradation: experience maximum network throughput while surveillance video is recording from multiple IP-based cameras and remote users are accessing content.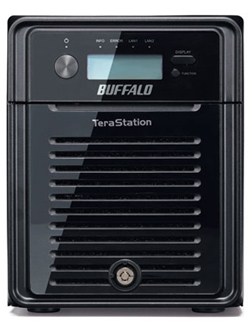 Highlights:
4-drives
1.33 GHz dual-core ARM processor, 1 GB DDR3
RAID 0/1/5/6/10/JBOD (Individual Disks)
Dual gigabit NICs
Hot swappable hard drives
Hot spare hard drive
Remote file access
Cloud storage backup*
Device fail-over support
Active Directory integration
Disk quota support
DFS Namespace support
VMware® Certified for NFS
Citrix® Ready
2 x USB 3.0 ports and 2 x USB 2.0 ports with accessory support
Simultaneous NAS and iSCSI target functionality
Scheduled or real-time replication to other TeraStation devices
11 licenses of NovaBACKUP® Buffalo Edition (1 server and 10 workstations)
Three-year warranty

TERASTATION NAS SYSTEM
TeraStation 3400 runs on Buffalo's TeraStation NAS System providing a host of business-class features from network file sharing and security to RAID management, remote access and more. Managing data, backups and data sharing in a production environment or larger business is made easy with this NAS operating system. Included on all Buffalo TeraStation devices, TeraStation NAS System simplifies your everyday data needs.
PERFORMANCE WITH VALUE
TeraStation 3400 features the dual-core 1.33 GHz ARM processor, providing exceptional performance during file transfers and everyday NAS functions at an unbeatable value.

RELIABLE AND SECURE
TeraStation 3400 offers high capacity, highly available storage accessible among multiple platforms for seamless centralized storage and backup. Create user and group profiles and control folder and file access to protect business critical content and privacy.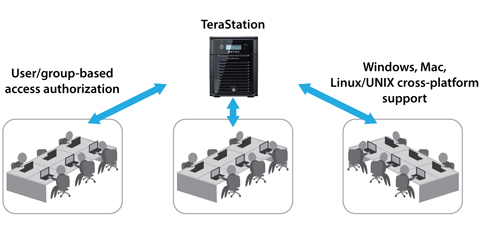 Support for multiple levels of RAID provides continuous data protection and increased fault tolerance and data availability.
RAID 0 combines all drives into a single array offering maximum capacity with no redundancy
RAID 1 mirrors two arrays, creating an exact copy of data for fault tolerance
RAID 5 stripes the data across all four drives, interspersing parity data to provide an efficient blend of fault tolerance and storage capacity
RAID 6 stripes the data across all four drives but with double distributed parity, allowing up to two drives to fail without suffering data loss
RAID 10 mirrors two sets of hard drives and combines them into a single array, striping data across all mirrored sets for fault tolerance and increased performance

DATA PROTECTION AND BACKUP
TeraStation 3400 is bundled with eleven licenses of NovaBACKUP Buffalo Edition (one server and ten workstations), providing a complete, all-in-one data protection solution for PCs and Windows® servers.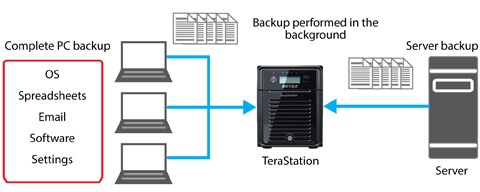 Additionally, TeraStation 3400 features Buffalo's replication technology providing easy and high performance data replication from one Buffalo NAS device to another Buffalo NAS device over the network or the Internet. This offers real-time synchronous replication of data, providing easy, continuous data protection in the event of data loss. If your system configuration includes data replication from one TeraStation 3400 unit to another, you can set up fail-over to automatically switch main operation over to the redundant TeraStation if the main unit ever becomes inaccessible. Within one minute, the backup TeraStation automatically assumes the role of the main TeraStation 3400 with no disruption and no IT intervention. Data can be continuously accessed without any notice of the fail-over.


HOT SPARE
TeraStation 3400 allows for one of the hard drives in the array to be designated as a hot spare. In the event of a hard drive failure, the hot spare hard drive will automatically be rebuilt with the information contained on the failed drive with seamless data accessibility to clients on the network.
Hot spare enables automatic RAID build in case of a drive failure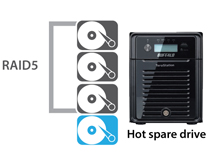 One HDD is configured as a hot spare, the rest in a RAID configuration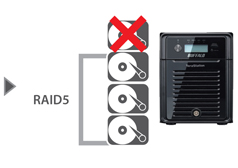 TeraStation will automatically switch to the hot spare drive to rebuild the RAID array in case of a drive failure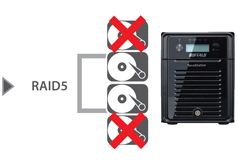 Data is not lost even after a subsequent drive failure

HOT SWAPPABLE HARD DRIVE
TeraStation 3400's hot swap feature also allows allows a user to replace a hard drive in the event of failure without powering down the device. Simply remove the defective drive, insert the new drive and the data rebuilds while still being available to clients on the network with zero downtime.

STORAGE VIRTUALIZATION
Configure TeraStation 3400 as an iSCSI target to add affordable virtualized storage to your business network. Storage virtualization serves to decrease IT spending by maximizing the resources offered by modern servers while providing affordable server scalability and reliability. A virtualized environment removes a significant amount of server dependence, shifting the burden to the storage devices.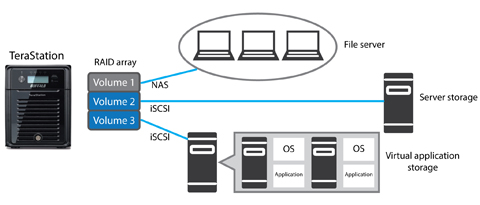 REMOTE FILE ACCESS
TeraStation 3400 offers multiple ways to remotely access and share your important data for enhanced collaboration and productivity. With WebAccess and FTP/SFTP servers, you can securely access and share files with anyone outside the local network. Trusted recipients can access selected files from anywhere over the Internet, and with WebAccess files can also be accessed remotely from tablet and smartphone devices.


PORT TRUNKING
TeraStation 3400 allows for the trunking of two Ethernet ports, providing both higher performance by utilizing the bandwidth of both ports simultaneously as well as fault tolerance in the event of a port failure.

CLOUD STORAGE BACKUP*
Backup mission-critical data to Amazon S3 (Simple Storage Service) for offsite backup. Offsite backup adds an extra layer of protection against data loss due to environmental disasters or equipment failures at your primary location.
Upload data to Amazon S3 cloud storage datacenter

SPECIFICATIONS
Internal Hard Drives
Number of Drives
4 x 3.5" HDD
Hard Drive Capacities
1 TB, 2 TB, 3 TB, 4 TB
Total Capacity
4 TB, 8 TB, 12 TB, 16 TB
Drive Interface
SATA 3 Gb/s
Supported RAID Levels
RAID 0/1/5/6/10/JBOD (Individual Disks)
LAN Interface
Standard Compliance
IEEE802.3/IEEE802.3u/IEEE802.3ab
Data Transfer Rates
10/100/1000 Mbps (Auto Sensing)
Connector Type
RJ-45
Number of Ports
2
USB Interface
Interface
USB 3.0 / USB 2.0
Number of Ports
2 x USB 3.0
2 x USB 2.0
Data Transfer Rates
5 Gbps (USB 3.0)
480 Mbps (USB 2.0)
Protocol Support
Networking
TCP/IP
File Sharing
CIFS/SMB, AFP, HTTP/HTTPS, FTP/SFTP/FTPS, NFS
Directory Integration
LDAP, Active Directory
Management
HTTP/HTTPS
Time Synchronization
NTP
Other
Dimensions (LxWxH)
9.1 x 6.7 x 8.5 in
Weight
17.6 lbs
Operating Environment
41-95°F (5-35°C), 20-80% (non-condensing)
Power Supply
Internal AC 100-240V Universal, 50/60 Hz
Power Consumption
86 W (Maximum)
86 W (Maximum)
Windows® Operating Systems
Client OS Support
Windows® 8.1 (32-bit/64-bit), Windows® 8 (32-bit/64-bit), Windows® 7 (32-bit/64-bit), Windows Vista® (32-bit/64-bit), Windows® XP, Windows® 2000, Windows Server® 2012, Windows Server® 2012 R2, Windows Server® 2008, Windows Server® 2008 R2, Windows Server® 2003, Windows® 2000 Server, Mac OS® X up to 10.10
GALLERY